Thanks for visiting my blog "best Dhoti brands in India". I have spent days in research and writing this awesome post for you. 
If you plan to shop any products from AMAZON, then kindly buy through my link. I may receive a small commission from the purchase you made, Am sure it will not cost you a single penny. 
This commission will help and encourage me to write more useful articles in the future.
Amazon Deal of The Day- http://inchennais.com/deal-of-the-day
Dhotis are one of the oldest outfits that we have grown seeing on our grandparents and fathers. But it's time to add some new cool fabrics and alter the regular jeans and boxers with some solid dhotis. 
Dhotis could be worn into any kind of traditional occasion and could be paired with any kind of top wear. Dhotis are popular in India and almost every citizen loves dhotis because it's comfortable. 
Here, I share some 10 top dhotis brands that are best in the Indian market.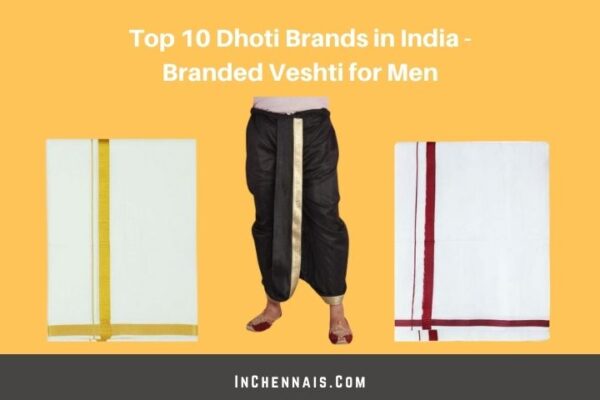 Rhythm Dhotis is a popular Dhoti brand all over south India. The brand masters over combed cotton dhoti with different color borders for men. This brand produces soft, light-weight dhotis 100% pure combed cotton material which makes you feel so comfortable and relaxed.
It is one of the top-selling cotton dhotis with positive reviews in leading eCommerce websites. The dhoti goes well with t-shirts, shirts, and even with kurtas in that case.
It gives a cool look in summers with a half sleeve T-shirt or vests. Men can pair it with any kind of cotton shirt or full-sleeved silk shirts for the chilly winters. 
AMC is a best seller company with the finest customer reviews in leading e-commerce sites. It produces fancy cotton color dhotis that are perfect for all kind of spiritual and religious occasions.
A man can probably pair it with a kurta and shirt. It also goes well for any kind of functions. You can also pair it with leather loafers or kolhapuris to get an elegant look. 
One can also add sunglasses to get a Kala superstar look. The unique traditional print of the dhotis and the shiny outlook gives it a royal look to men.
AMC provides the best and affordable dhotis that are a must-have in every dhoti lover's wardrobe.
#3 - Ramraj Men's Cotton Dhoti
Ramraj Cotton was established in 1983 and is a well known trusted Dhoti brand in India, especially in Tamilnadu for its finest quality dhotis, Lungis, and vests.
The Ramraj men's cotton dhotis are made with pure cotton and are absolutely perfect for any kind of service occasion.
The dhotis could be worn to different parties or at a delightful evening get together. The dhoti goes well with any kind of solid bold color and white color shirts.
It establishes and encourages the rich diversity of Indian culture. The dhoti has a natural flow in the material that sets in within the skin and falls elegantly.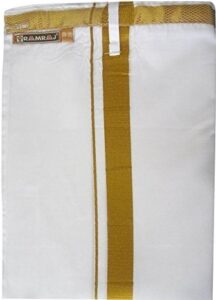 #4 - Prakasam Cotton Men's Dhotis
Prakasam cotton men's dhoti is a must-have in every dhoti lover's wardrobe. It has a free size dhoti that fits perfectly to people irrespective of sizes.
The unique feature of the brand is its pocket. The brand itself is adored by all south Indian men because of its convenient features.
The dhotis are made with 100 percent cotton and are flowy in nature. These dhotis can be worn to parties and other casual dates.
The dhoti goes well with any kind of half sleeve shirts. You can probably pair it with a denim shirt to elevate your look.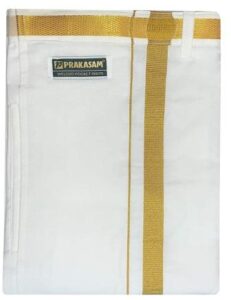 #5 - Mcr Pure Cotton Dhoti
MCR is a leading Dhoti brand in Tamilnadu, also known for its finest quality traditional wear. The company began its journey in 1995 and since then there is no looking back.
These Mundus are not only stylish but certified ISO for the environmentally friendly management system. The dhotis are soft and comfortable, that does not wrinkle easily.
The dhotis are made with premium quality cotton. These dhotis are good for any kind of traditional occasion.
These Mundus could be paired with T-shirts, formal shirts, and simple vests. MCR stands as the best company in the whole of Tamilnadu and Kerala.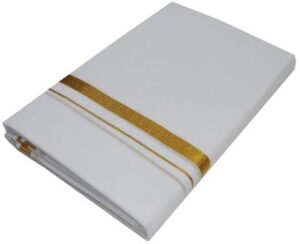 #6 - Uri and MacKenzie Silk Dhotis
Uri and Mackenize produce the best kind of ethnic garment that is suitable for any kind of special occasion. These pant style dhotis are best sellers in Amazon because of its executive designs and minute detailing. 
These fancy dhotis ate a perfect alternative to the regular suit and shirts and can be paired with Kurtis and mojaris. The dhotis are specially crafted for functions like sangeeth and Mehendi, wherein the dhotis can elevate your look. 

The errands produce a variety of ethnic wears such as Mundus, kurtas, trousers with the best quality of cotton and silk.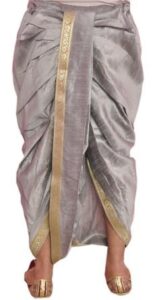 #7 - ADT Saral Men's Cotton Dhotis
ADT Saral men's dhotis are one of the best Mundus/Veshti in the market of the south. You can easily spot one or two dhotis in any local market of this brand.
Adored by a whole lot of people, the brand has managed to earn a name and fame in the whole nation. It produces premium quality dhotis with elegant borders that go well with casual t-shirts or formal shirts.
ADT dhotis are known to be worn at functions and other auspicious occasions, this white-colored dhoti is one way to go in such a case.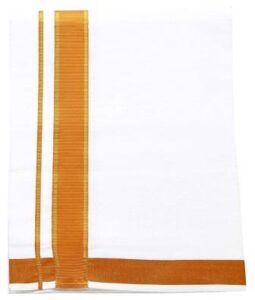 Born in 2002, Alaya cotton has set its trademark all over the nation for its premium quality dhotis and other cotton fabrics. The dhoti is perfect to set the traditional thalla mood.
It elevates the classic look of an individual and provides a sense of dignity. The dhotis are perfect for weddings, the thread ceremony for casual hangouts. Alaya cotton retains its reputation for its stylish yet comfortable fitted fabrics. 
The brand provides a lavish experience to its customers for its skin-friendly fabrics. The fabric does not shrink or get wrinkled even after multiple washes, which makes it look new every time you wear it.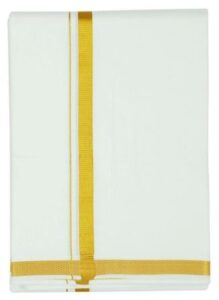 #9 - Shiwam Ethnix Men's Dhoti
Shivam Ethnix Men's cotton company is a branded chain that delivers the finest quality cotton Mundus and Vests. The company produces skin-friendly fabrics that fit on the skin perfectly and has a natural flow into it.
The dhoti can be worn on occasions like weddings or thread ceremonies. The company produces eco-friendly fabrics without disposing of any kind of hazardous disposal to the environment.
It provides premium quality cotton that does not stick to the body and keeps any kind of allergy at bay. Hence the dhoti is a must-have in your wardrobe.
Uathyam group of companies started from the year 2003 and since then there has been a rapid growth of this company for its quality content and textured fabrics.
Uathyam dhotis are best known for their affordable prices and stylish borders. The dhotis could be worn with T-shirts, shirts Kurtis, and vests.
These casual dhotis could be used both in winters or in summers because of their flowy nature. The brand produces the best skin-friendly and eco-friendly fabric.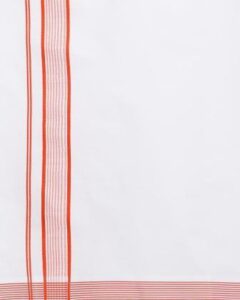 How to wear dhoti like Tamilnadu style?
Styling a dhoti in Tamil Nadu style is not a big task. You need little tricks and tips to just light up your dhoti game. Here is the step by step guide to draping the dhoti.
● First of all, unwrap the dhoti and hold it with both your hands.
● Then tuck it inside your underwear and fold the other half around your waist.
● Tuck both ends securely with a tight knot.
● You can keep the length of the dhoti as you like or shorten it if you want.
● And that is, you can tuck the knot inside your underwear.
How to wear dhoti like North Indian style?
Adjust the dhoti to the center of your waist.

● Tie a knot and tuck it inside.

● Take one end of the dhoti and roll it over to the backside with side pleats and tuck it inside the opposite side.

● Repeat the same process and tuck the pleated side on the front.

● Now take the end of the dhoti and do the side pleating and tuck inside.

Well, it's ready now; you can carry this style with some cool jackets or blazers.
Choose the best Dhoti/Veshti
Dhotis are traditional attire that is most loved by Indian men. It is very comfortable to wear and can be styled with various top wear. This long yard of pure cotton is a grace that enhances the culture of Indian men and make them look handsome.
I hope you like my article "Dhoti Brands in India"; Also, I have written an articles about 10 Best Lungi Brands in India and  11 Best Hand Kerchiefs in India, its worth to check.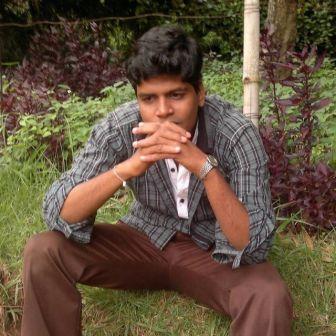 Crazy gadgets lover, Fashion Freak, Blogger, Biker, & Die Hard Gamer. Don't look somewhere else, you won't find anything better than my list.
Why you should trust me?
Am not affiliated with any particular brands, I don't promote any sponsored products, I don't write any paid reviews.
How do I choose my Products?
I have done my own research on Amazon and collect the list of top-selling products. Finally, I sort out the collected products into a few lists based on quality, brand, price & user reviews.
I spend all my days researching products, reading reviews from various sources, and bring them to you. Am doing this only to increase your trust on me and my website(InChennaiS).
Happy Shopping……