Happy New Year

Thanks for visiting my blog. I have spent days in research and writing this awesome post for you.

If you plan to shop any products from AMAZON, then kindly buy through my link. I may receive a small commission from the purchase you made, Am sure it will not cost you a single penny.

This commission will help and encourage me to write more useful articles in the future.

Amazon Deal of The Day- http://inchennais.com/deal-of-the-day
---
Vettri Theatre Chrompet is an excellent theater to watch all types of movies from regular to 3-D movies. The ambiance in the theatre is excellent. Let us now move on to the query part.
What is the history of Vettri Theatres Chrompet?
Every place holds its history. Similarly, Vettri Theatres was started in the year 1973 and still it is running successfully with no floss but with latest modernization in technology, developments and visitor flow.
The background for Vettri Theatres is very efficient in screening all films as it one among the oldest theatre in Chennai located near Chrompet.
Inaugurated by our honorable Ex-Chief Minister Dr. Karunanidhi or Kalaignar Karunanidhi in the year 1973. The seating capacity is 930 and is one of the largest seat available theatres in Chengalpet district.
While the other theatre Rakesh is smaller one with seat availability of 433 and is started in 1990 in the presence of actor Vijayakanth. Most commonly students are their visitors here to see movies.
All residents and in and around working professionals are commonly attracted to this theatre.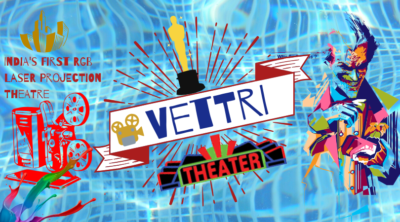 Where is it located in Chrompet?
Theatre is located 6 km away from Chennai Airport on the GST road in Chrompet.
Find the Address in Map:
511, Great Southern Trunk Rd, Reserve Bank Colony, Chrompet, Chennai, Tamil Nadu, 600044
What are the Show timings on Vettri Theatres Chrompet
Find Vettri Theatres Chrompet show timings bellow, Its combine of both Vettri and Rakesh screens,
Vettri Theatres Chrompet show timings:
Morning: 11:40 AM, 12:00 PM
Afternoon: 02:50 PM, 03:00 PM
Evening: 06:40 PM, 07:00 PM
Night: 10:00 PM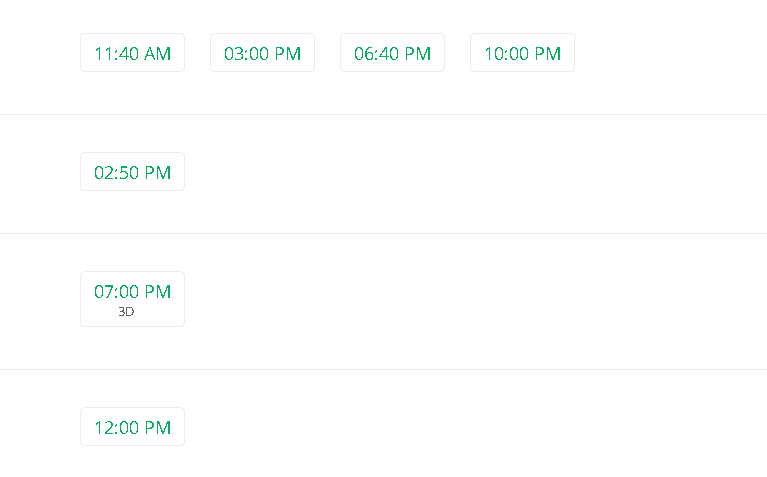 What is the start on Vettri Theatres by Rakesh Gowtham?
Rakesh Gowtham first took up charge over the successfully running theatre from the movie Thuppakki movie.
The movie was completely over flowing with fans and full on all the screened time.It was a pack of best movie that grabbed a lot of audience and screen.
They were running successfully with no end. Also following these the entire movie was very famous among the world-wide audience. Following which the broadcast timings kept the theatre busy and successful.
What are the new advancements?
The best RGB Screen installation has brought great effect on the audience to visit the theatre again and again.
Most common laser technology was not used here. The new installation has brought a great reach among old and new audiences.
The screen has also shown great effect on the people. All age groups are accepted to watch different movies. Vettri Theatres Chrompet is well-known for its excellence and long-lasting best shows.
The screen capacity is 1.3k high resolution. Along with ray- QUBE digital projector with complete QSC amplifiers and JBL speaker DTS systems all over the theatre.
The facilities include 3-way speakers. Completely air conditioned rooms with chill water facility.
According to Mr. Rakesh Gowtham
"As a forward-looking exhibitor in Chennai, we've always thinking of new ways to elevate the movie-viewing experience and introducing state-of-the-art cinema technologies to our patrons"
As he is the present managing director. He also added his statement about the latest technology.
"The Christie CP4325-RGB, with its compact, all-in-one form factor, 25,000 lumens and unmatched cinematic performance in 4K resolution, is exactly what we need to deliver the best cinematic visuals to our discerning audiences. We're proud to embrace RGB pure laser projection and be the first cinema in India to deploy the CP4325-RGB."

What is the difference between Rakesh and Vettri? Rakesh Vs Vettri
Rakesh is the best newly launched screen that has 3D effect specialization to broadcast English movies.
Vettri is the oldest 70 mm theatre that is very well known to the audience. The seating capacity is much higher than Rakesh.
The Rakesh holds a maximum of 500 people while Vettri can hold double the times of its capacity. The screening of English 3D movies grabs many children to visit the 3D theatre again and again.
Making the difference among other theatres is Vettri theatre specialty. The seats are cushioned one in the newly inaugurated theatre.
Vettri being old is the most favorite theatre for many young girls and boys. Almost all movies are screened here.
Though few negative talkers still keep munching on it, but, this will not affect in any way as the reputation is excellent from the viewers.
What is the Screen Size and Visual experience – RGB Laser Protection Screen – 3D technology at Vettri?
It is an "all-in-one" Form of theatre, no necessity on external cooling with low cost Ownership. Incomparable imaging and operational qualities, DCI standards are met and consistent brightness level.
Works through three different lasers and not with lamps, launched first in Vettri Theatre Chrompet in India. Rarest technology used in IMAX group theatres. Mr. Christie heads the team.
Which movie is the Long screened Movies of 2019 in Vettri theatres Chrompet?
Movies such as Visuvasam, Bigil, Kaithi, Pettai are the most successful movies of Vettri Theatre on 2019. Bellow are top 12 Movies were released in 2019 and had been running successfully at Vettri Theatre Chrompet.
Viswasam

Pettai Asuran

BiGil

Kaithi

Kaappaan

Super Deluxe

Kanchana 3

Avengers Endgame

The Lion King

Nerkonda Paarvai

Comali

NVP
Every movie gives excellent experience when watched with the best technology.
The latest technology of 3D lasers has brought bright colors to the theatre and the mob of visitors has increased drastically.
The owner has scored great applause for installing such a piece of modern equipment in their theatre.
As movie like Avengers, Lion King is branded and interesting these new technologies have increased the greatness of the theatre.
Fully air conditioned environment gives a pleasant feel to all viewers.
World's best theatres are loaded with excellent facilities. Most common technology doesn't show much effect among the public.
The excelling best technology will allow the entire crowd to revisit the theatre again and again.
All movies are pictured for the best outcome but theatre and its technology adds to its points".


What is the cost of parking in Vettri theatres Chrompet?
In brief about parking cost, parking space, parking services facilities in Vettri Theatre.
Previously there where lack of space but now there are extensions made by the theatre and their team. At the same time the back side of the theatre is widened to place the visitor's bike in place.
Once the film is over the entire crowd is driven to the new parking area and they exit from there. The safety of the two wheeler is excellent as there are new gates added to these areas.
There are spaces specifically designed for bike parking, most of the two wheeler customers where finding it difficult to park their two wheeler.
Making a new parking slot is to facilitate the clients. An old building was thrashed and demolished completely and is now converted as a new parking space by adding a lot of mud and smoothing it.
The floor is made comfortable with the proper machines.
Many customers have thanked the theatre management for arranging new parking slot and improving the area.
What are the ticket cost, online booking and the availability of a number of physical counters?
The ticket cost is made very economical and the facilities of in-person booking are also made feasible for the clients by increasing the number of physical booking counters.
There were people who were selling tickets outside theatre in 'black' which is now muted.
As there are very less tickets available on the first few days of the movie release people try to grab the chance of selling in back.
Now every other trouble is relieved. All customers are facilitated with good facilities.
For people who find online booking higher, they have 3 physical counters to book and watch your favorite movies.
At the same time, the online theatre is a very easy operation and not much high-end technologies are used.
Just download the app and select your seat. Book your seat by paying the respective amount. All are treated the same no differences or partiality are shown among them.
Online Booking facility is to favor bulk booking people and not the general or rare or minimal booking ones.


What is the additional facility such as the cafeteria and its Ambiance?
All types of drinks and snacks are served with delight. The staffs are friendly enough with the customers.
No drawback such as adulterated or cheap quality foods are served inside the theatre. Almost all the outside foods are banned to take inside except kids.
The availability of aerated drinks has increased the reliability of refreshment in theatre.
Both with cooling and without cooling are available to comfort customers.
All the food stuffs served are branded and no local or unauthorized items are served in the cafeteria.
Everything within the premises is legally stamped items. No side effects can be noted from it.
At the same time, it cannot be regularly consumed as all are chemically treated foods.
The seating arrangements and on seat delivery of food is also available for online booking customers, best choice of theatre as said by customers.
The cost is also nominal and no extra charges are charged in food supply.
How about The pros and cons of the theatre?
Lets Check the Pros and Cons of Vettri Theatre 4K 3D Chrompet.
The theatre is rich with good environment for every other family to visit the movies.
Entire mob is overloaded with excellent ambiance and best arrangements starting from parking till food service.
The maintenance is also excellent as the full theatre is occupied the time available for cleaning is also minimal. Despite all these the maintenance is excellent.
As there are two different screens here the entire theatre is considered to be the best among all other well known ones such as IMAX or INOX.
There more number of happy clients than the dis-satisfied ones. The positive reviews are the proof for it. It is found to be the real time enjoyment.
The cons are converted into pros by building the best resolution with proper aspect ratio for the customers to enjoy the movie.
Other theatres that are available in the surrounding of Vettri Theatres Chroempet
The following theatres that are newly renovated and build are as follows
• Vidya Theatre
• Kumaran Cinema Hall
• Varadarajan Theatre
• Arunmathi Cinema Hall
• National Theatre
• MR Cinema Hall
• Malliga Cinema Hall
• Vetrivel Theatre
• Velan Cinemas
• Venkateswara Theatre
• King Media
• Jayalakshmi Theatre
Almost all these are overloaded with excellent ambiance and good facilities next to Vettri Theatre.
What is Vettri Marvel's pass once? Does it cost 400?
Yes, it was an old offer by Vettri theatre Chrompet, If you buy 4 marvel movie tickets, you will get 3 more marvel movie ticket as a bonus or gift.
This attractive offer has increased the visitors and the sales of the movie this year.
At the same time, no other established theatre gives such offers. This is simply to favor their Marvel Fans with excellence.
Why are snacks expensive?
No its not, May be its seems like that! Though the snacks are highly priced the quality has no doubt in it.
Visitors can trust the food served and it is shown worth for money. The reliability is higher so they are expensive.
How about the restroom facility in the theatre?
The space in the restroom is comfortable. And the maintenance is excellent when compared to other theatres.


Is there an age specification?
No, any age group people can visit the theatre.
Will there be age proof verification for "A" certified films?
Yes, definitely there will be verification at the Hall entrance, as they don't want the children to get exploited unnecessarily.
Frequently Asked Questions and Answer
Where is Vettri Theatres Located?
Vettri Theatres is Located in Chrompet,
Address: 511, Great Southern Trunk Rd, Reserve Bank Colony, Chrompet, Chennai, Tamil Nadu, 600044
What are the Show timing for Vettri Theatres?
Morning: 11:40 AM, 12:00 PM
Afternoon: 02:50 PM, 03:00 PM
Evening: 06:40 PM, 07:00 PM
Night: 10:00 PM
How many screen does Vettri theatres have?
Vettri Theatre has 2 screen, Rakesh and Vettri
Parking cost in Vettri Theatres?
20 rs for 2 wheeler and 150 for 4 wheeler.

What is Ticket Cost In Vettri Theatres Chrompet?
Is there age Specification in Vettri theatres?
No, But Available for A certificate films.
Is Age Verification necessary for A certified films?
Yes, Need to submit age proof for A certificate films.
You May Also Like: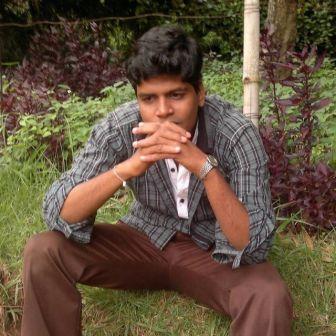 Crazy gadgets lover, Fashion Freak, Blogger, Biker, & Die Hard Gamer. Don't look somewhere else, you won't find anything better than my list.
Why you should trust me?
Am not affiliated with any particular brands, I don't promote any sponsored products, I don't write any paid reviews.
How do I choose my Products?
I have done my own research on Amazon and collect the list of top-selling products. Finally, I sort out the collected products into a few lists based on quality, brand, price & user reviews.
I spend all my days researching products, reading reviews from various sources, and bring them to you. Am doing this only to increase your trust on me and my website(InChennaiS).
Happy Shopping……