Thanks for visiting my blog. I have spent days in research and writing this awesome post for you. 
If you plan to shop any products from AMAZON, then kindly buy through my link. I may receive a small commission from the purchase you made, Am sure it will not cost you a single penny. 
This commission will help and encourage me to write more useful articles in the future.
Amazon Deal of The Day- http://inchennais.com/deal-of-the-day
Indian traditional attires can never go out of style. And one of them is the classic lungi. Loves and adores by the mid aged people of India, it is staple wear of all the grandfathers and fathers of Indian families. 
Lungis are long, light, and flowy wrap-ups that men of all ages can wear. Lungis are mainly worn by elders but with an evolving sense of fashion, youngsters nowadays consider dhotis and lungi as cool attire to incorporate into their lifestyle. 
Hence we have discussed some of the best lungi brands in India for the handsome man out there.
Best Online shop to buy Lungis at affordable price. Pricing starts from 210 rupees. Google search "Mr Lungi".
11 best lungis in India for Men in 2021
#1 - Mr.Lungi - 100% Cotton (60-60 Fabric)
Mr.Lungi is one of the best and affordable men's lungi brand which sells 100% pure Cotton Lungis at just 210 Rs.
These Lungis are weaved in a Machine with 60-60 non-mixture fabrics that give you an exclusive lavish feeling when worn.
These lungis feel extremely soft on your skin and they don't shrink and fade even after multiple washes.
These lungis come in green, red, blue, maroon, black, brown, blue, white color with multiple attractive designs.
These are great replacements for modern shorts and boxers; as they give a unique touch to your look.
All these lungis are manufactured in Erode, one of the top cotton clothes manufacturing city in India. These Powerloom lungis are absolutely great and do justice to the value for money.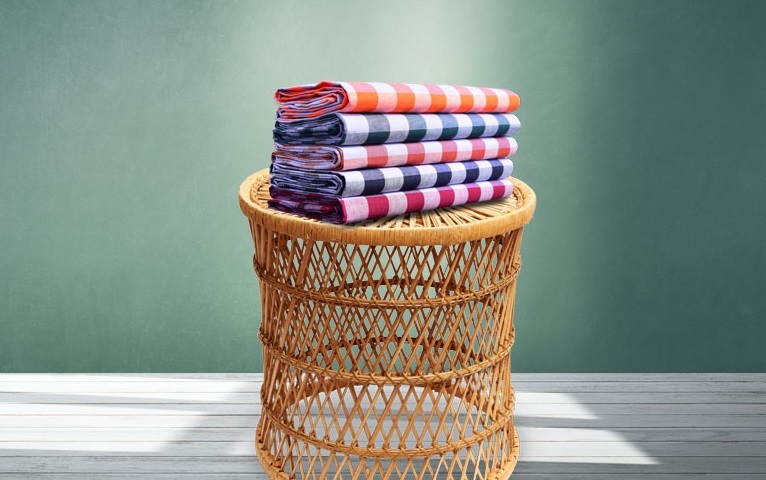 #2 - KITEX Cotton Lungi for Men
Kitex lungis are made with exclusive pure cotton material, with absolutely stunning prints from Kerala. These lungis give a posh feeling when worn by a man. 
These Munde come in a pack of three in pink, brown and blue colors. This Lungi has a preferable dimension of 20 x 20 x 2 cm which is approximately 400 gram. This Mundus is non stitched so that you can adjust it according to your need.
It is advisable to wash the Lungi with hands and not use any harsh detergents or chemicals. Dry cleaning for the material is not recommended. These premium lungis do not fade color even after multiple washes.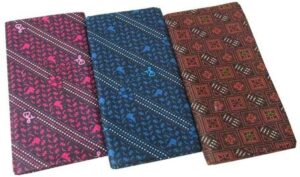 #3 - Sangu Mark Lungis for Men
Sangu Mark lungis are exceptionally known for their product quality. With the quality logo mark in each lungi, they make a perfect comfortable daily wear. Made from pure cotton, these lungis are perfect for all climates and seasons. 
Men can wear this Lungi to nearby casual workplaces or at home. The material of the fabric is skin-friendly and gets better after multiple washes. These lungis are recommended to wash in mild detergents separately for the first 2-3 wash times.
The dimensions of the Munde are 27.2 x 13.9 x 5.1 cm, and these are lightweight fabrics of the approx weight of 800 Grams. These are non-stitched with checkered stripes in them.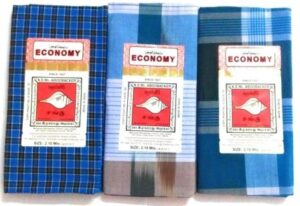 #4 - NIRANJ Men's Cotton Meter Lungi
Niranj Men's lungis are a unique kind of lungis that suits people of all ages. These come in a pack of two and have very simple yet elegant small prints on the multi colored lungi. The fabric of the lungi is extremely soft and skin-friendly. 
These are made with a hundred percent pure cotton, which makes them apt for daily wear may it be summer or winter. The lungis are 20 x 20 x 2 cm in dimension and 400 Grams of weight.
The main attraction of the lungis is the digital printing all over the body of the material, which does not make it look over the top or below average. They are perfect for elders and are great alternatives to the boxers.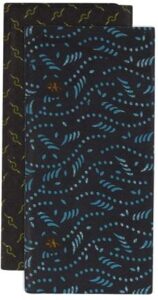 #5 - DHRONA Men's Cotton Lungis
Dhrona Men's cotton lungis come in a set of 5. With stripes and square patterned multicolor lungis, these are perfect for daily wear. These lungis are made with pure cotton with safety measures that ensure no harm to the environment to die and prints.
These are free size lungis; which perfectly goes with individuals with heavy bottoms. The dimensions of the lungis are 28.4 x 14.4 x 12.5 cm and 1.3 Kilograms in weight. 
If you consider buying the Lungi online then it's a perfect choice; as the product review of the customer is very impressive. These lungis do not wrinkle after multiple washes which make it long-lasting and durable.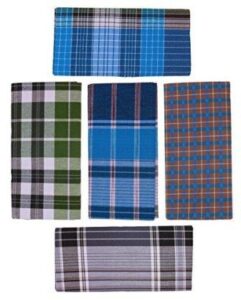 #6 - Cotton Crown Men's Friendly Lungis
Cotton Crown lungis come in a pack of two with 2m in width; which gives you utter comfort when lounging at home. These lungis are light blue in color with cubicle and cubical structure. 
These are 2.25 in length which makes them perfect for all people with measurable long height. These are made with cotton and polyester which makes them easily dry. 
It has a good review of the online platforms and does justice towards the value for money. The color of the fabric does not fade even after multiple washes and does not sink in length wise.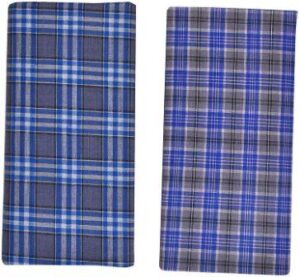 #7 - Nandu Men's Cotton Stitched Lungi
Nandu is one of the prominent brands in India, known for its absolute fine quality of lungis and dhotis. Made with hundred percent pure cotton and it is the finest 27.3 x 14.1 x 8.2 cm long Lungi.
It is self-stitched which makes it easy to wear; these lungis come in a set of 4. They are striped with royal blue, grey, & brown colors. Unlike other brands that have a similar kind of pattern, these lungis are multicolored with multi patterns in them.
These are washable fabrics that can be washed in mild detergents and soaps. They are stitched with a circumference of 2.25 meters, which makes them big enough to fit an XXL size. These lungis can be worn at home or in any casual place.
#8 - Gowri Tex Men's Cotton Stitched Lungis
Gowri Tex Men's Cotton Stitched Lungis are best for young ones who are stuck at wearing a lungi, or afraid of adjusting the lungis. These lungis are flowy and are super effective in their dyes and prints.   
These lungs don't fade color even after several washings. These multicolor lungis do not scrunch and tear; and have a sturdy material.   
The dimensions of the lungis are 24 x 10 x 10 cm, and these lungis weigh around 492 Grams. Perfect for summers and winters these are lightweight super comfortable on sensitive skins.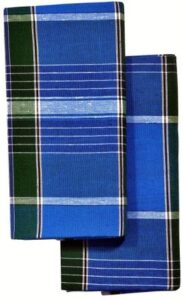 #9 - BLUE Leaf Stitched Lungis
BLUE Leaf STITCHED LUNGI is perfect for beginners who wish to wear lungi but are not comfortable wearing, or do not know how to wear them.         
These are closed-loop lungis which provide the man perfect grasp on adjusting his Lungi. These are a multicolored and multi-patterned pack of 3 lungis that are perfect for lounging around or just for a casual evening tea.           
These are made with poly cotton which makes them perfect to dry quickly. These lungi materials are skin-friendly and good for your pocket. The dimension of these lungis are 24 x 20 x 5 cm; also they are 480 Grams.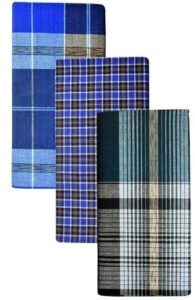 #10 - Cotton Colors Men's Printed Cotton Lungi
Cotton Colors Men's lungis are free in size and are funkier alternatives to the regular blue and grey lungis. The digitally printed lungis are made with good quality soft materials that suit everyone.     
The material has dimensions of 25.4 x 20 x 2.54 cm and is 600 Grams. These have exclusive flower patterns all over the body. The color of the lungis is Royal which is blue and brown, which makes it look more elegant.   
It is advisable to wash the lungis in lukewarm water and dry it under sunlight. Dry cleaning for this material is not recommended.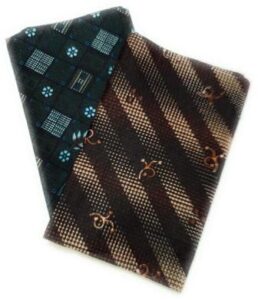 #11 - SBNLIFESTYLE Cotton Stitched Lungis
SBN LIFESTYLE lungis are self-stitched. These lungis come in a pack of two with striped patterns in blue-toned fabrics. Made with a hundred percent pure cotton, these lungis make perfect wear for summers.   
What is more attractive about the SBN LIFESTYLE lungis is its premium quality material. These lungis do not shrink even after multiple washes and do not wrinkle.   
These Mundus are perfect material for gifting it to grandparents or fathers. These lungis are skin-friendly as well as pocket friendly. The width of the lung is 2 meter which makes it big enough for people of variable heights.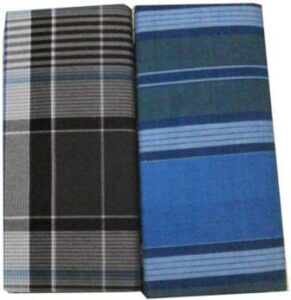 Difference between Dhotis and Lungis
Dhotis are traditional attires while lungis are the casual attire that can be worn at home. Dhotis are preferred mostly on auspicious events like Weddings and Poojas. They come in a single color with thick mono-color borders. Dhotis are considered as the sattvik attires and made up of pure cotton.   
While lungis are not advisable to wear on any traditional occasion; Lungis come in different colors and patterns. It is more flowy and comfortable than dhotis. Lungis are made digitally also in handloom industries. They are mainly preferred for lounging and for casual evening wears. 
How to wear a non-stitched Lungi?
To wear a classy and comfy original thalla style Lungi, you need to follow these simple steps. 
1. Set the Lungi free and flow from behind.

2. Bring it to your center, holding one of its ends tuck the side in your pants.

3. Now bring the other side and wrap it around your waist.

4. For a more comfortable feel, you can shorten the length by folding both the ends and tucking it around the waist.
Advantages of wearing Lungis
There are uncountable benefits of wearing a Lungi and ditching joggers and boxers. Lungi is considered as one of the oldest comfy wears that men adore in India. Not only men but women nowadays consider Lungi as a style statement and pair it with various kinds of tops to go with. 
1. Lungis are more comfortable than any kind of bottom wear.

2. They are an unusual yet different alternative to daily wears.

3. Lungis are flowy hence they make perfect summer wear. Also, their sizes can be altered according to your need.

4. Hence they make great wear in winters too.

5. Research shows that lungis reduce the chances of genital allergy which generally happens due to tight bottoms.
Can we wash Lungis? What happens if we wash?
Yes, we can wash lungis as they are made up of cotton and other washable materials. Otherwise, it's recommended to wash the colored new lungis separately as they can stain other items. Also, you can use mild detergents and lukewarm water to wash the fabric. And dry them in sunlight.
How macho a man looks, with a long yard of Lungee draped around the waist with the perfect sunglasses?
Yes, lungis can be one of the iconic style alternatives to regular jeans and trousers. Lungis can be worn on different occasions may it be in a casual party or lounging at home.
They are perfect for summers and winters. Made with pure cotton lungis are perfect attire to add some fun to your look. Hence keeping a good quality lungis in your wardrobe is a must.
I hope you like my article, I have also wrote an article about 11 Best Hand Kerchiefs in India and 13 best mosquito nets for beds in India. Its worth to check.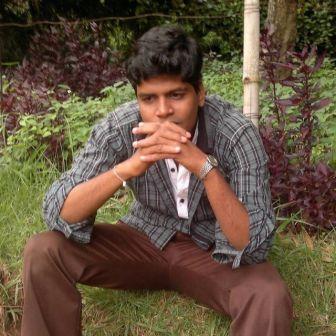 Crazy gadgets lover, Fashion Freak, Blogger, Biker, & Die Hard Gamer. Don't look somewhere else, you won't find anything better than my list.
Why you should trust me?
Am not affiliated with any particular brands, I don't promote any sponsored products, I don't write any paid reviews.
How do I choose my Products?
I have done my own research on Amazon and collect the list of top-selling products. Finally, I sort out the collected products into a few lists based on quality, brand, price & user reviews.
I spend all my days researching products, reading reviews from various sources, and bring them to you. Am doing this only to increase your trust on me and my website(InChennaiS).
Happy Shopping……