LOOKING FOR AFFORDABLE SEO FREELANCER IN CHENNAI?
I'm Rajarajan. I'm a power system engineer by qualification and I have been in the field of SEARCH ENGINE OPTIMIZATION for the past 5 years.
I also have experience in Social Media management, Guest post outreach, Banner Design, and WordPress Development.
I have worked as an SEO ANALYST for some of the reputed companies in the city.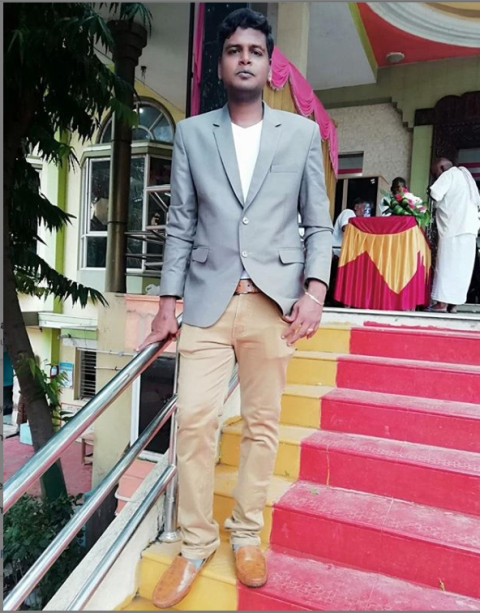 I'm one of the experienced and devoted SEO FREELANCER IN CHENNAI. I can offer you HIGH-QUALITY SEO SERVICES at an affordable price within the due date.
I assure you that my work will be 100 percentages accurate and unique. You can never be able to find a freelancer like me who is the most CLIENT FRIENDLY.
I always ready to listen to and meet the expectations of the client.
As I'm passionate about SEARCH ENGINE OPTIMISATION I always believe that my success is laid on the satisfaction of my clients.
If you are looking for an SEO FREELANCER to make your passionate business glow more than anyone else is in Chennai,
then don't hesitate to contact a passionate SEO FREELANCER IN CHENNAI like me.  
Affordable SEO Freelancer in Chennai
SEO Services for Small Businesses @ just 3000 INR
THE MOST IMPORTANT THINGS YOU(CLIENT) MUST HAVE IN THEIR MIND BEFORE HIRING A SEO FREELANCER IN CHENNAI
You need to bring visitors to your website after you have created one. You could have the wonderfully designed website in the world but SEO is the only thing that will make your website visible and discoverable to the visitors.
A freelance SEO FREELANCER can help you to boost your website within a limited budget.
SEO is a long term strategy, you will have to work with their freelance SEO FREELANCER for quite a long period.
Before hiring an SEO FREELANCER IN CHENNAI, make sure that their freelance SEO FREELANCER some of the inevitable qualifications one must have.
1. Pay attention to the specific skills of SEO freelancer:
Check the SEO specific skill of any freelancer they are considering. Because anyone on the internet can say that they are SEO FREELANCER.
Ask relevant and efficient questions until you have faith in the SEO FREELANCER.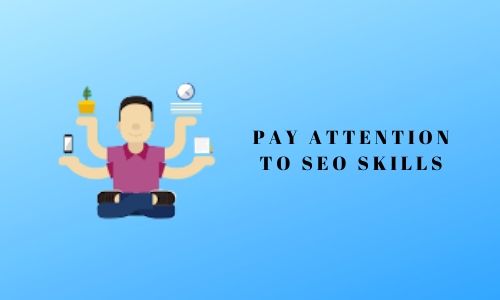 2. Familiar with different tools:
The SEO FREELANCER should also be familiar with multiple SEO tools like Google search console, Google analytics, Bing webmaster, Ahref, Semrush, Grammarly, Ubersuggest, MOZ, SEO Power Suite and more.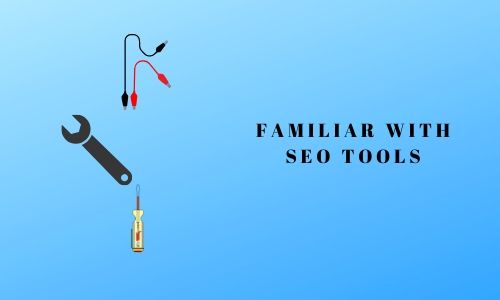 3. Past performances of the SEO freelancer:
The past performances of an SEO FREELANCER IN CHENNAI will help you to conclude whether the freelancer will be efficient enough to work for you or not.
Most of the SEO FREELANCER IN CHENNAI will be more ready to share their successful SEO campaign.
This kind of case study on your SEO FREELANCER FREELANCER will prevent you from investing in the wrong person.
The SEO FREELANCER IN CHENNAI Who has more experience in years as well as working for multiple clients will be more potent than others.
The experienced freelancer will understand your expectations and will find an easy way to achieve it.
4. Reliability of SEO freelancer:
If anybody comes to you by saying they could get your website ranked number one within the short period, know that they are trying to deceive you.
Getting ranked one for a website may take a year or more, it depends on the competition.
An honest SEO FREELANCER will come to you with the changes need to be made on your website. They will not exaggerate anything more than what it is laying there.
They will start to rectify the generic problems before even starting the SEO CAMPAIGN.
The reliable freelancer will consult with you the strategies which they are going to use to improve the optimization of your website.
Certainly, Avoid freelancer who want to keep secrets for search engine success.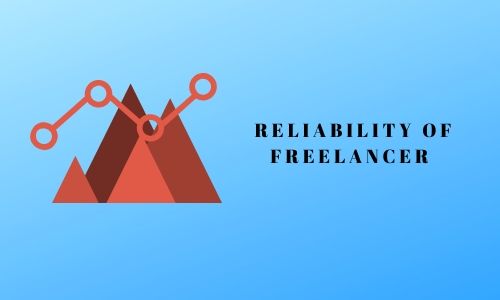 5. Communication with SEO freelancer:
It may not be important for you to meet your freelancer but communicating with a freelancer is most important.
You can communicate with your freelancer through email, phone or messages.
The frequent communication will be useful for you to know the report of your website from the SEO freelancer.
6. Beyond web traffic:
It's very important to focus more on website design, structure, and navigation than web traffic.
Because these parameters play a major role in converting visitors into customers.
The visitors will not find a website with poor design and structure as an attractive one.
A true freelance SEO FREELANCER will discuss with you about how to make your website more user-friendly and work accordingly to bring in more customers to your business.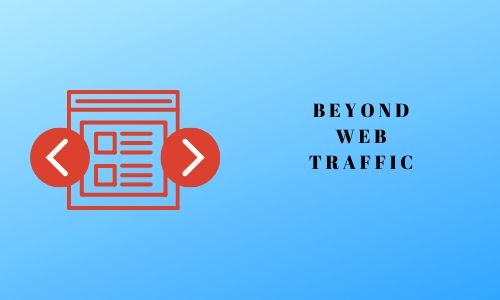 7. Periodic performance report:
The freelance SEO FREELANCER will send you the reports about the changes made on your website and the progress it attains through the changes.
The reports will be sent to the client on a weekly or monthly basis.
The periodic reports will act as a graphical representation of the progress of your website.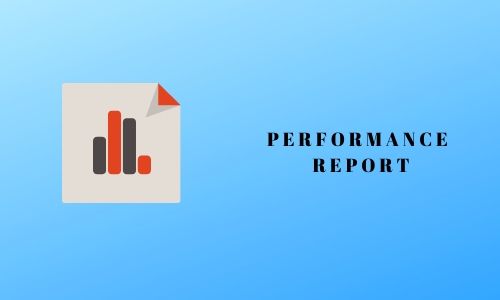 8. Using white hat techniques:
A professional freelance SEO FREELANCER should follow the standards of the webmaster guide.
Any third-rated activities will make the website eliminated from the search engines.
Keywords stuffing in websites HTML code and plagiarized content should be avoided to prevent the website from getting evicted from the search engines.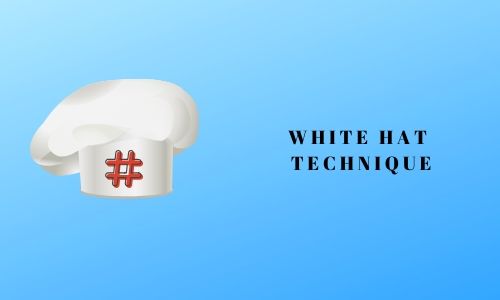 The above-listed matters are the basic things that a client must focus on SEO FREELANCER before hiring them as a consultant. These things will help you from investing in the wrong person.
WHAT MAKES ME BETTER THAN OTHER SEO FREELANCER IN CHENNAI:
I always consider the following 6 factors while optimizing the client's website for SEO. I approach it differently.
KEYWORD RESEARCH

EFFECTIVE CONTENT

ATTRACTIVE META TAG

UX-USER EXPERIENCE

DOMAIN AUTHORITY

FEATURED RICH SNIPPETS
1. KEYWORD RESEARCH:
Keyword research holds 50% of my successful on-page SEO strategy. Keyword research is the fundamental step to optimize a website and I do it from the user point of view.
Successful Keyword research involve following factors,
– Keyword Intent
KEYWORD's intent is trying to figure out the intention of the user and their thought.
Whenever a user searches a term, Google will try to find out what the user is exactly looking for and will give them the best results with top priorities.
For example:
If a user searches about the "3D Theatres in Chennai" in Google the result will have many blogs that are having the details about malls in the Chennai city.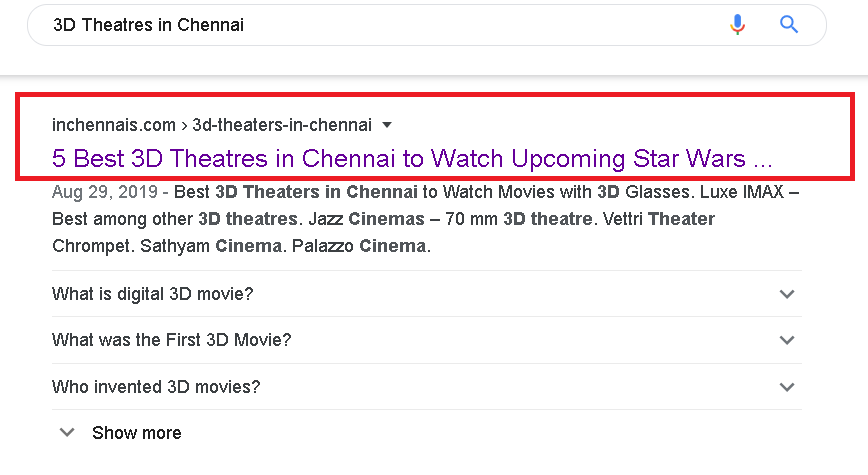 If a user searches in Google about a particular mall-like "Vettri Theatres Chrompet 4K 3D" it will directly lead the result into the official web page of the Vettri Theatre.

The first search term is about list of theatres in the city but the second one is about the particular theatre in Chennai. This is what keyword intent is.
Finding new keywords based on the user's point of view and expectations are my best part of Search Engine Optimization.
Users may sometimes search for something in the Google question term. These terms are called as Question and answer keywords or QA keywords.
For Example:
What is the best coffee shop in Chennai?

Where can I get a ticket for IPL match Chennai?

Who is the best surgeon in Chennai?
I found out 5-10 questions and answer keywords by using Ahref KEYWORD EXPLORER. It's one of the premium tools I suggest others also to use it.
Users who are searching in Google with the QA terms are mostly looking for answers, not for any products or services.
Though they are not going to buy or get your product or service they will help us to improve the organic traffics.
– Search volume:
SEARCH VOLUME is nothing but "an average number of time a term is searched by users in a month.
For Example: The search volume of the term "SEO FREELANCER IN CHENNAI is 30".
It means the word SEO FREELANCER IN CHENNAI has averagely been searched for 30 times within a month.
– Keyword Difficulty:
As per Ahref, Keyword difficulty is calculated by the number of Backlinks required to lift a keyword to the top 10 ranks of Google search engine result page.
– Conversion Keyword:
The random keyword which leads the user to your website and makes them buy your product or contact with you will be named as conversion keyword.
Conversion keywords will always lead to a sale.
Finding keyword in the user's point of view, good search volume, low ranking difficulty, and better conversion rate is the prime reason for my success.
2. ENGAGING CONTENT:
The CONTENT is the most important factor in SEO. The content which you have on your website will make the user get your service.
Content is like the first impression of a person if it's not good nobody would like to spend their time on that website and will definitely, come to a conclusion about the service you are providing.
So a distinct, unique and attractive content is very must for a website to make a good impression in the user's mind. The content must be very effective and should be very simple to understand.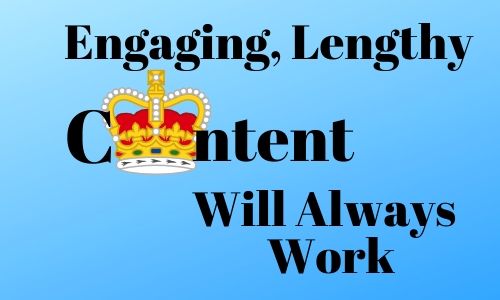 Content length:
Writing engaging long content is one of the important strategies of my successful ON-PAGE SEO.
I always suggest others to write at least 2000 words for a single page.
The lengthy content will make the user stay on the page for more time so that the website will be ranked higher.
Nathan Gotch said that the websites which are having lengthy content have 90% of chances to get ranked higher than the others.
As I said, I mix 1 primary keyword and 5-10 QA keywords and make my content with stories and answers. Contents with informational question answers will definitely, make the users read it fully.
It will help to reduce the bounce rate and increase the ranking in search engine result page.
Content quality:
The quality of content is very crucial for a website. Users will not like to read lengthy rubbish things.
The narration of content must be filled with relevant information.

Quality content must satisfy the following terms,
The content should not distract the users from reading it

The content must be self explainable

The content should be very simple and easy to understand

The grammar must not be very difficult
Most importantly rewriting or spinning of content from another website will definitely be blocked by Google.
Google uses some parameters to evaluate the quality of the content, the parameters are:

How long users spend their time on a particular website?

How the user uses a particular website?


How many times do users share the content of a website on social media?

Number of like content gets on social media

The positive comments of users to the website

How the users actively engaging with the site

How many users visiting the relevant pages of the same site
That's why I create social media for all my clients and share the website URL on it. This is also a very important SEO strategy.
3. ATTRACTIVE META TAGS:
The title tag will appear on the result page when you search a keyword. Title tags must clickable in nature.
Meta description is a very short description of a website; it will appear below the title tag. Meta tags will only have one or two lines.
Title and description are the most important place to put keywords and which are too important to make a customer visit your website when they are searching for the business which you are providing.
I use my keywords naturally in Meta title and description using a WordPress Yoast plugin.
4. UX USER EXPERIENCE:
UX is the friendliness of a website to its users. If the website is not user-friendly the user will not stay on the page and move abruptly to another website.
This kind of user move will indicate Google about the unfriendliness of the website.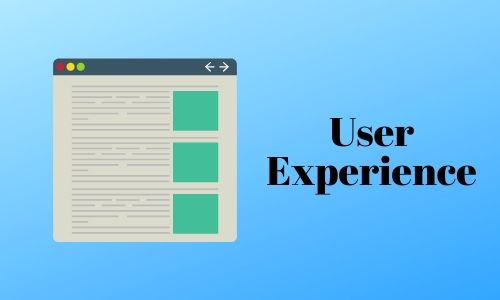 How I Make a user-friendly website
The successful user-friendly website will lead users to spend more time on the website.
Creating a home page with a contact form, call button and mail option.

Creating lengthy and informational content

Try to explain more information which the user would like to know, in the QA form.

Increase loading speed.

Helping the users with breadcrumbs and sliding menu which will help them to navigate to other pages of the same website.

Creating more service, location, and gallery pages to make the users surf more on the website.


Adding more interlinks with one another.




I make all the users feel comfortable while surfing on the website with my SEO and WORDPRESS knowledge. I always create a client's website on my own and choose fast loading themes and Plugins.
5. DOMAIN AUTHORITY:
The credibility of a website is called DOMAIN AUTHORITY. It is assessed based on domain age, website quality content, Backlinks profiles, and social media shares.
Domain authority is introduced by MOZ SEO TOOL. Though it is not introduced by Google it plays a crucial role in Google ranking.
Backlinks from relevant pages with more traffic are important; So, I contact the owners of relevant websites and make them accept to link with my client websites in exchange for guest posts.
I always answer the questions of forum pages like Quora and Reddit with the website URL. I make sure my answers are on the top of the pages so that it could bring more referral traffics to the website.
FEATURED RICH SNIPPETS:
Rich snippets are one of the Google result with feed users the additional data.
Previously on the search engine result page, you could only see the top 10 results which are relevant to your search query. But now Google comes up with another option.
If you search a term in Google it will show you the result along with rich snippets.
I use all in one schema plugin and FAQ plugin to optimize the page.
After that, I will inform Google that my page is ready to list in the featured rich snippets.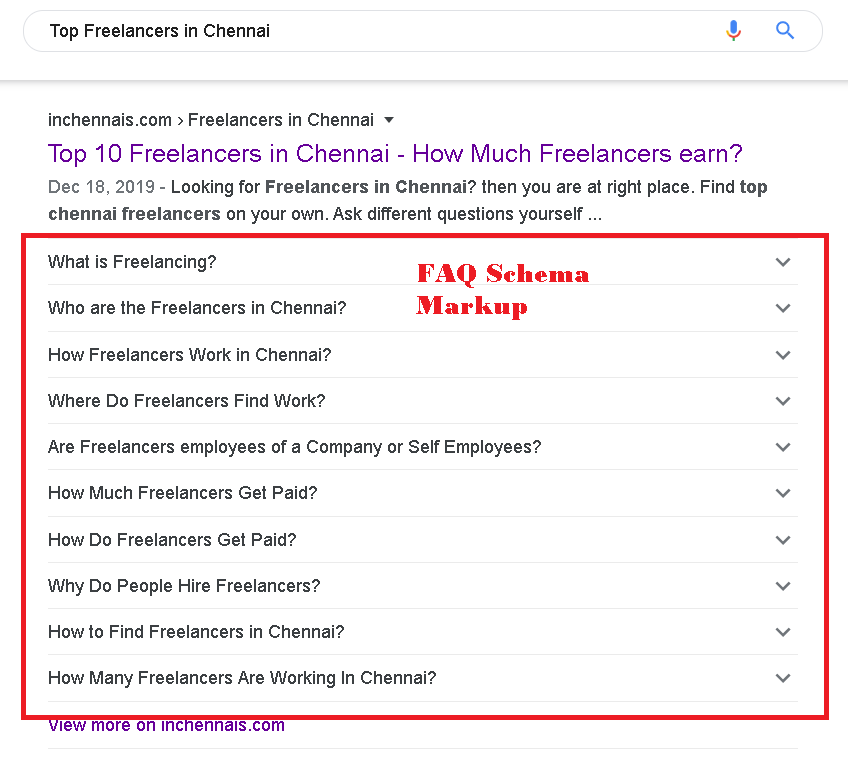 These are the 6 important strategies I use to succeed my passion which is SEO. These strategies helped me to get my entire client's websites on the top of the search engine result page in the past 5 years.

I have been using some secret strategies to get what I desire. I can't share those strategies with you at this point. If you want to see the magic of those secret strategies then hire me as your SEO FREELANCER, I will definitely show you.on-page SEO works involve the following,
MY SEO WORK
ON-PAGE SEO:
On-page SEO works involve the following,
1. URL STRUCTURE OPTIMIZATION:
URL structure optimization may seem like a simple step but it's more than much information.
The URL is what gives information to search engine about content, context, and its target.
The steps that I follow to optimize your URL:

The URL must be readable to everyone so that the user will get some idea of what the page is about.

Avoiding capital letters in URL will eliminate unnecessary doubts

Using hyphens to separate the words will make the URL get top rank. But underscores should not be used in URL.

Adding a mobile URL to the site map will inform the search engine about the mobile-friendly web pages.

Adding the primary keyword in URL

Blocking unnecessary and unsafe URLs with robots.txt will prevent you from getting penalties.

Canonicalizing URL will protect it from creating duplicate content.

Whenever we made a change in already existing URL We should implement 301 redirects on the old URL place to notify Google bots of your new URL destination.
Adding a favicon to the URL will bring better recognition to the website brand.
2. SITE STRUCTURE AND LAYOUT OPTIMIZATION:
Optimizing site structure will help the search engine to understand the content and it will get more site links in Google search.
A better site structure will reduce the bounce rate.
For the new website, the site structure must be preplanned. It should be based on the hierarchical structure.
But the hierarchy should not be more than 2 or 3 levels.
If the website is already an existing one, first I will bring all the contents under some categories so it will help the users to find the content they are looking for.
I will add all the categories in the menu and home page of the website.
I will use HTML and CSS for navigation and I will add a breadcrumb menu in all the pages so that the users can easily navigate the site.
3. TITLE TAGS AND DESCRIPTION OPTIMIZATION
Mapping out will help to make title tags for the website which are having multiple pages.
The title tag must be readable; a keyword which can impact users must be added to the title tag.
Unique tags will help to optimize the title tag. Duplicate title tags can figure out by using Google search console and Bing.
Searcher intent keywords must take place in the title tag.
I can add more words to the description. So the words must be self explainable and very effective. It should have a possible number of keywords in it.
4. IMAGE AND ALT TAG
The best help the image alt tag could do is to turn the images into hyperlinked search results. It will be another way to get organic traffic.
The alt text should be descriptive and specific with the most relevant picture.
The alts text must be fewer than 125 characters.Should not cram keywords into every single images alt text.
5. MOBILE-FRIENDLY CHECKUP
We can check the mobile-friendliness of a website by using Google search console.
Configure viewport or viewport Meta tag.
Avoiding interstitial ads.Using convenient font size.
Avoiding plugins.
Cut off the images and contents which are not convenient to the mobile users.
6. 301,302 REDIRECTION CHECK UP
301 indicate the page's permanent move into a new location.
Whereas 302 indicate the move is temporary.
7. 404 ERROR CHECK UP
404 are telling the user that the website they are searching for cannot be found. It may be due to the mistake of the URL or the web page might not be an actual one.
8. SITE SPEED CHECK UP
The site seed can be optimized by the following things:
Using a content delivery network

Moving the website into better host like shared hosting.

Optimizing image size in website.

Reducing the number of plugins.

Reduce the use of web fonts Detection 404 redirect.
9. GOOGLE ANALYTICS AND WEBMASTER INTEGRATION
Integrating Google analytics with third-party tools called Google webmaster. It will give insights about the website.
10. W3 VALIDATION
This validation checks the markup validity of HTML and x HTML content.
Though Simple W3 validation will not bring any problem to SEO we should try to fix it to optimize the website more effectively.
11. INTERLINKING
Interlinking websites will aid in easy navigation and it will distribute age authority and ranking power throughout the site.
Creating lots of internal pages will help us to add more interlinks.
Internal links should have anchor text.
Using relevant links.
12. ROBOTS.TXT CREATION
Robots exclusion standards are used to communicate with other website crawlers and web robots.
This is to inform web robots in which way the web page should not be processed and scanned.
13. LOCAL MAP CREATION
Adding business physical location.
Increasing the number of reviews.
Adding photos.
Giving the contact details.
Mentioning the working days and hours.
OFF-PAGE SEO
Off-page SEO works involve the following,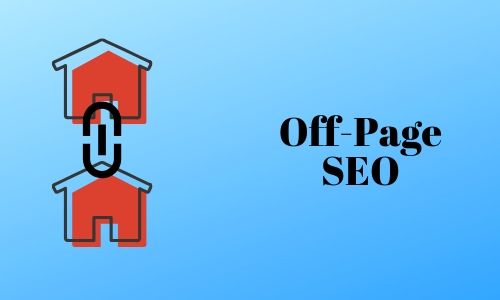 1. DIRECTORY SUBMISSION
Directory submission is defined as the process of submitting your website URL.
The primary goal of submitting a website to directories is to receive one-way inbound links from other high ranking websites.
2. SOCIAL BOOKMARKING
Social bookmarking is an online service. It allows users to add and edit their web documents.
It's one of the effective ways to increase traffic to the perfect website.
Registering with a large number of social bookmarking sites will help to get ranked high in the search engine result page.
3. BLOG CREATION AND POSTING
Creating a blog and posting on it is also helpful to improve the traffic of a particular website.
4. PDF AND ARTICLE SUBMISSION
Publishing articles on the third-party website is called article submission.
It's is one of the methods to add our business articles to the most famous directories.
If the followers of that famous website find your article useful they will definitely, visit the website link which we mentioned below the article. It will increase the traffic to the website.
5. PRESS RELEASE DISTRIBUTION
Press release distribution is the service that conveys the press release to the public and target audience.
It will also increase the traffic to the website.
The people, who are looking for that particular news will definitely, become organic traffic of the website.
6. VIDEO & IMAGE SUBMISSION
Video submission is also called as video sharing. It is one of the best ways to promote your website through video content.
The video should contain all the details about the business.
Video duration should be 2.5-5 minutes.
7. POST Q&A SUBMISSION
Question and answer submission is a strategy to attract visitors to the website by answering the question of someone on a famous website.
It will bring more traffic to the website so it will be ranked top on SERP.
8. CLASSIFIED SUBMISSION
Classified submission is a kind of business promotion in locally and internationally.
It's about advertising our business on classified websites.
But this kind of advertisement will be allowed only for a particular period by the websites.
9. WEB 2.0 CREATION
Web 2.0 allows its users to create their own URLs and gives sharing, grouping and networking facilities.
There are lots of web 2.0 sites on the internet that can bring you more volume of traffic.
Web 2.0 sites include social media social bookmarking and video sharing.
10. SEARCH ENGINE SUBMISSION
Giving URL to a search engine to make it aware of site or page called search engine submission.
It will help to promote the website.
BENEFITS OF HIRING ME AS YOUR SEO FREELANCER IN CHENNAI:
Comparing with an SEO FREELANCER, Hiring an SEO company is very costly.
So it is very easy and cheap for you to hire a passionate freelancer like me for your SEO work.
I will optimize your website is a very effective and potential way and will definitely complete all your work within the committed period. My work will be 100% accurate, unique and distinct.

The revenue of your business will increase more than your expectation.

New customers will start to arrive at your company.

Your business will get more positive reviews than ever before.

I will make sure that your business and customer trustworthy is in substantial growth.

Your business will grow beyond your predictions.

I will send the reports of the changes I made on your business website page after I got the nod from your end.


I will share the plan with you every month about the changes and work I wish to do on your website.
Finally, all the factors will make you enjoy the tremendously increased profit of your business.


What Kind of report you get every week:
Every client will like to know the health of their website. So, if you hire me an SEO FREELANCER in Chennai, I will send you the report of my works every week.
My report will contain SEO and Backlinks health, ranking and organic traffic progress, sales, & leads.

I will assess all the work that I have done on your website and send you the report.

I will give you the report of increasing organic traffic to your website.

I will also give you the page level traffic so you can decide whether we need to improve the product page or not.

The page speed insight report will tell you about the great user experience that we are providing in your business website.

I will also submit the report of the bounce rate and time on site. It will give you an idea about how much time users are spending in the website.

I will report to you about the rankings and the number of links that we get.

I will also submit the plan to boost up the website.


The plan execution will also be submitted to you every week.
Frequently Asked Questions about SEO Freelancer in Chennai
HOW I BECOME A SEO FREELANCER?
I always spend more time reading and inventing new strategies and experiment with them with my sites.
SEARCH ENGINE OPTIMIZATION and BLOGGING.
WHAT I WOULD LIKE TO DO IN FREE TIME?
I love to play video games whenever I find free time.
Of course, I'm sitting in front of my laptop.
Google me "Rajarajan SEO freelancer" or "SEO Freelancer Chennai Rajarajan".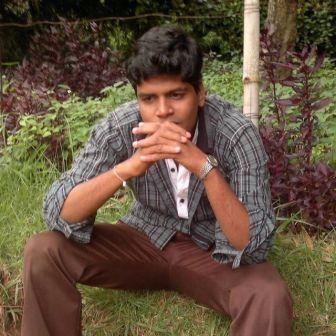 Crazy gadgets lover, Fashion Freak, Blogger, Biker, & Die Hard Gamer. Don't look somewhere else, you won't find anything better than my list.
Why you should trust me?
Am not affiliated with any particular brands, I don't promote any sponsored products, I don't write any paid reviews.
How do I choose my Products?
I have done my own research on Amazon and collect the list of top-selling products. Finally, I sort out the collected products into a few lists based on quality, brand, price & user reviews.
I spend all my days researching products, reading reviews from various sources, and bring them to you. Am doing this only to increase your trust on me and my website(InChennaiS).
Happy Shopping……