Thanks for visiting my blog "best blazer brands in india". I have spent days in research and writing this awesome post for you. 
If you plan to shop any products from AMAZON, then kindly buy through my link. I may receive a small commission from the purchase you made, Am sure it will not cost you a extra penny. 
This commission will help and encourage me to write more useful articles in the future.
Amazon Deal of The Day- http://inchennais.com/deal-of-the-day
Blazers are generally called as jackets but it is slightly different from suits and sports jackets. Unlike suit jackets they are not very formal and it is an essential piece of garment in every man's wardrobe. Starting from a casual meet up with friends to a formal gathering, you can wear your blazers to stand out from the crowd. If you have the knowledge of; how to perfectly style a blazer then you are sure to make some heads turn when you walk out wearing your blazer.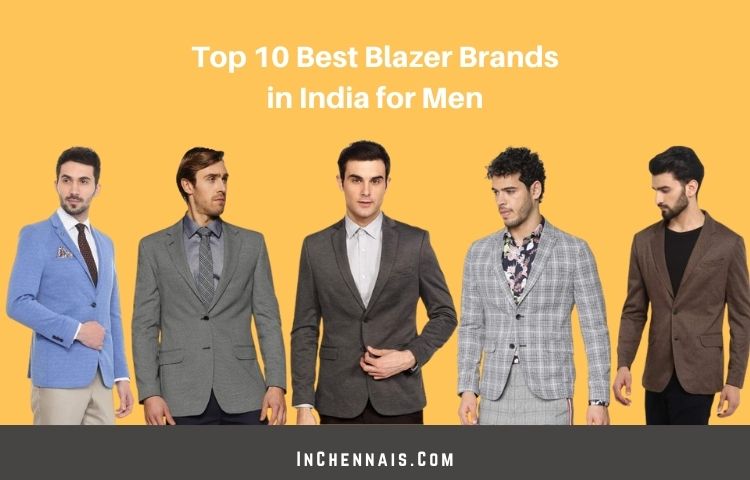 For most of the men, blazers and suits are one and the same thing but like every other garment available in the market, a blazer and a suit are different and they serve two different purposes. 
When it comes to formality, blazers are a little less formal than suit. The biggest difference between a blazer and a suit jacket is that a blazer can stand alone while a suit is combined with a matching pair of trousers that is made with same material. 
Suit jackets are generally solid coloured while blazers can be printed too. Even while pairing shoes, one cannot wear casual footwear with suit jacket, but you can wear any kind of footwear with blazers depending on the look you are intending to put on. 
Top 10 Best Blazer Brands in India 2021
These are the top 10 Blazer brands in India, If you are looking for best T-shirts to match with your blazer; then click here
● Raymond
● Arrow
● Mufti
This brand is an all time favourite among men. Raymond group have been delivering world class quality apparels since 1925. 
They are a formidable brand when you consider apparels. The key to their success is the consistency with which they have been continuously providing the finest fabrics. 
They offer you a huge variety in blazers that include single breasted blazer, casual blazers, double breasted blazer, contemporary blazers and tuxedos. Raymond blazers are made with a finesse that is hard to match.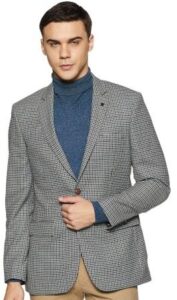 Van Heusen has set a standard for both men and women on how to dress and fit into a corporate world. This brand shows you how to merge sophistication and style into one. 
It provides a huge array of apparels that match with today's expression of style. They give you a wide variety of options in blazers like double breasted blazer, slim fit blazer, single blazer, striped blazer and check blazers. 
You can wear it with a pair of chinos and walk out like the coolest. If you are looking for blazer that can be used both for a formal meeting and a semi casual day out, then Van Heusen's collection of blazers are great options for you.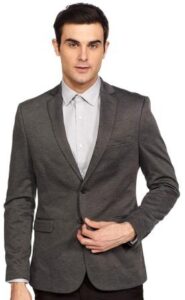 #3 - Peter England Blazer
Peter England is a brand that has made its way into the Indian market long back in 2000. Since then it is a popular 'go to' brand when it comes to formal wear. 
When you walk out wearing Peter England, you are sure to make an impact on the people around you. Peter England is one of the strongest international brands that are now popular in India. 
Like the other brands, they do offer a wide variety when it comes to blazers which are sure to update your look. 

Arrow is known for its premium American styling. They have a method of classic designing that makes you stand out in a crowd. When it comes to dress in style while being classy, Arrow is the brand you are seeking. 
It offers you the best blazers in the India. Be it a casual meet up or a formal meeting with your investors, Arrow blazers will be your best companion. The brand has a legacy and every time it strives to meet up the standards and become even better. 
They always offer apparels that are not less than a world class quality. Arrow garments have a rare and sophisticated appeal that is sure to shine.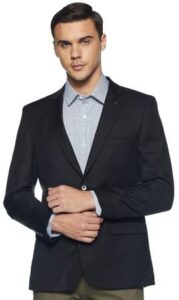 It is a premium fashion brand that has been running in the market since last 25 years. Level up your wardrobe with this Blackberry's cool and stylish blazers. 
Apart from the blazers they also provide you with a wide variety of necessities like shirts, denims, footwear etc. The blazers they provide are of good quality and you can style it accordingly the occasion you are attending. 
If you are going for a business meeting then pair it with a formal solid colour shirt and you can rock your meeting. If you are going for a semi casual day out then you can pair it up with a cool printed shirt and walk out like you own the place.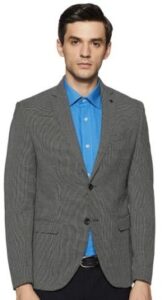 The garments made by this brand stands put from the other ones in the market. Apart from providing top quality blazers they also provide garments that cater to the needs of people of all age. 
It was the first brand that made a trend in the section of women's work apparels. It offers you mainly two types of blazers that are slim fit blazer and single breasted blazer. As written above they give you varieties in blazers for women too.

#7 - Louis Philippe Blazer
It is one of India's largest apparel brands in terms of sales. They offer you formal, semi formal and custom made apparels for men. 
The apparels crafted by this brand scream sophistication and elegance. It offers you the best blazers for men. The blazers made by this brand are crafted with a unique finesse and class. 
If style is your top most priority then Louis Philippe blazers would not disappoint you. It is one of the finest blazer brands available in the India.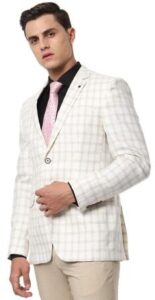 #8 - Jack and Jones Blazer
Jack and Jones is a company that started its journey with jeans but slowly and steadily it grew its business and now it provides the customers with a wide variety of apparels that cater to the needs of the younger generation. 
Jack and Jones have five unique brands under them which include Jack and Jones vintage clothing, Originals, Core and Premium. Jack and Jones blazers help you to nail the classy look that you seek while dressing up in a blazer. 
The unique style of their blazers allows you to rock on both business meetings and casual functions.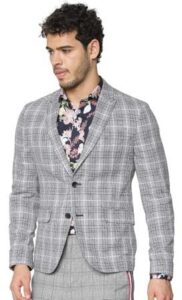 Park Avenue is a brand owned by the Raymond group. The major attraction of this brand is that it offers all kinds of Wardrobe solutions for men. Due to this reason it a very popular brand in India and is trusted by a large community of men. 
The blazers offered by them gives you the smart boardroom look you require to bag a big opportunity. Apart from men they also offer wide variety of blazers for women too.

Mufti is a popular Indian brand that is renowned for its array of men's apparels. The style and elegance of the garments made by this brand are in complete sync with the needs of today's youth. 
They have several varieties of blazers like checked blazers, single breasted blazer, double breasted blazers. If you are taking your girlfriend for a date and you are confused about what to wear then this one is a sure life saver. 
The blazers offered by them are sure to make some heads turn when you walk out. If you are going out fir a summer brunch with your friends then pair it up with a cool printed shirt and walk out in style.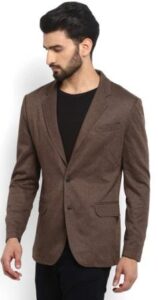 3 Less Known Brands and lowest price blazers in India
#1 - ManQ Men's Slim Fit Blazer
Man Q is brands that offer stylish blazers that you can buy without totally killing your budget. The blazer has a sharp notched collar that flaunts style and elegance. The blazers are made with poly viscose which makes it glow like a silk. 
The natural look of the fabric gives an attractive appearance to the blazer. It is perfect for layering and it gives you the perfect formal look you need. 
They have two side pockets that add up to the style of the blazer apart from being functional. In whole, this is a great option when you have to buy a blazer without injuring your budget. 
#2 - Menjestic Men's Single Breasted Blazer
Menjestic is yet another less known brand that provides you good quality blazers within your budget. 
The prices fall in the lower side of the price scale and inspite of this, these blazers will help you complete your look for a formal meeting. 
They offer a regular fit single breasted blazer that meets up the needs to match today's style quotient. 
You can buy this one and use it both for a formal meeting and a party, just by changing the clothes that you pair with this blazer. 
#3 - Bregeo Men's Slim Fit Single Breasted Blazer
Bregeo is one of the few brands that provide you with budget friendly blazers. When you have to attend a formal gathering and your household bills are not allowing you to spend too much in the look, then you can surely buy this stylish blazers offered by BREGEO. 
The blazer has a light lustre and has a lapel collar that is folded over the front edges to give you the elegant look you need. 
It is a single vent blazer that is made with a poly viscose fabric which makes it soft and supple.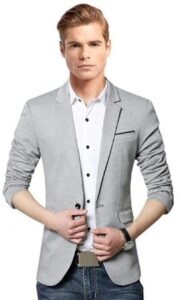 Buying Guide for Blazers in India
Every man needs an array of blazers in their wardrobe which will help you to look a bit more sophisticated than your casual outfit but do not have to look too formal by wearing a suit. While buying a blazer, you have to keep some factors in mind so that you do not end up buying a blazer which does not represent your personality. Here are some factors that you should keep in mind.
1. Style

There are many styles in blazers namely single breasted, double breasted, three button, four button blazers etc. Among these single breasted and double breasted blazers are the most common styles.
 A single breasted blazer is the most popular style of blazer. If you are going to buy only one then buy a single breasted blazer. They have 2-3 buttons and they work for all occasions, right from date nights to formal weddings. 
Double breasted blazer is made with large amount of fabric and is folded over at front. It comes with two columns of buttons. They give a formal and sophisticated look and due to this reason they cannot be worn for a casual affair. 
Three button blazers are worn for a casual look. They have two vertical rows of buttons. Four button blazers have four vertical rows of buttons and are worn for a formal function.  
2. Material



The most common materials used for making blazers are wool, cotton and polyester. Heavy wool blazers are worn for a proper business meeting. Woolen blazers are normally worn by individuals living in colder part of the world. 
Cotton blazers are best for the cool summer look that you want on a semi casual brunch. Polyester blazers are a new trend and they are good for a not so formal gathering where you have to dress up just lore than casual and just less than formal.
3. Button
Buttons are a very noticeable feature on a blazer jacket. They can be the very delicate pearl buttons or the heavy gold family heir passed from generations to generation. 
Most of the companies use the normal brass buttons. You can use mother of Pearl buttons for spring, silver for autumn and gold for winter.
4. Fit

The shoulder of the blazer should fit in such a way that you are free to move your arms in your desired way but the shoulder should not hang out more than ½ inch from your actual shoulder. There should be enough space in the jacket to fully button it. 
The sleeves should extend up to the wrist bone and should show the shirt cuffs when standing straight. The length of the jacket should be in such a way that it fully covers your backside. 
5. Color
Like any other apparel, blazers also come in wide variety of colors. Black is the classic colour but blazers are also available in white, grey, blue, green etc. 
The only thing you have to consider while picking up for a blazer is that the colour of the shirt and blazer should not be one.
Top 5 Matches to Wear with Blazer
1. With Jeans
Pairing up a blazer with a jean will add up to your style. It is an excellent option when you are confused about how to look classy on a date. You can pick a Grey blazer and pair it up with brown jeans to rock the contemporary look or you can pair it up with a blue jeans for a classic style.
2.

With trousers
In order to flaunt a polished and sophisticated look, you can pair up your favourite blazers with a trousers.
You can add up style by replacing the normal collared white shirt with a casual t shirt and replacing the normal formal shoes with a pair of sneakers. With this you will complete your cool dude look.

3. With T-Shirt
If you have to look cool without losing your class, then all you have to do is pick up a blazer and wear it with a casual T-shirt. A slim fit blazer with a slim fit T-shirt would be the best. 
You can wear it with a pair of chinos or shorts so that you complete the stylish look you intended. While doing this, opt for neutral colour blazers so that your styling does not go wrong.

4.

With Shorts
If you trying to make out a cool summer look while wearing your blazers then you can pair it up with shorts.
You can get the fun loving and playful look by pairing you shorts with your blazer and to add up to it, you can put on a casual t shirt with a contrasting colour. Wear sneakers or sandals, so that you can complete the cool summer look.

5. With Lungi
Ever wondered what happens when you mix tradition and westernization. You can try this blend by pairing your very favourite blazer with your lungi. Nothing beats a lungi under a jacket. 
It is as stylish as a pair of chinos with blazer and it is as traditional as wearing a shirt with lungi. If you want to make a fashion statement then you should definitely try this combo.

Chinese style blazer in India
ManQ is a brand that provides you budget friendly Chinese style blazers. These blazers have mandarin collar. They are usually single breasted blazers with long sleeves. 
They have a double vented hem and have two built in pockets. You can see this kind of blazers in band gala style.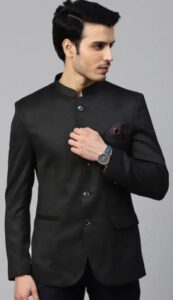 Korean style blazers in India
Just like Korean dramas, Korean style blazers are also very popular. They are slim fit and solid colour that are usually paired with solid coloured t-shirts. They are usually worn for a casual look.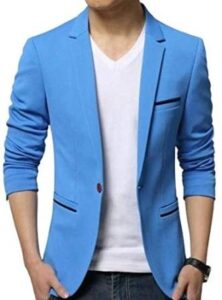 FAQ's About Blazers with Answers
1. How long is a casual blazer?
Generally the length of the blazer should be in such a way that it should cover your back side. You can also choose a length where it covers half of your crotch. It should not hang very long.
2. What is the most versatile colour in blazer?

Black is the classic colour used in blazers. You can have blazers in all the solid colors like white, blue, green etc. 
If you are buying only one blazer then you can buy a neutral colour blazer like a grey blazer or a navy blue blazer. Pair your blazers with contrasting shirts and t-shirts and walk out with style.
3. What should I look when buying a blazer?
The first thing you should look for is the fit. The shoulder fit should be in such a way that it is neither too loose nor too tight that you can not move your arms comfortably. You should pay attention to what fabric is used to make the blazer. 
In general opt for cotton fabric as it will keep you cool. You can look out for the style of buttons used and also buy the blazer according to the occasion you are going to wear it.
4. Can you wear a untucked shirt with blazer?
If you are going for a casual look then you can definitely pair up your blazer with a untucked shirt. There are chances that it may look shabby so instead of going for this you go for a tucked t shirt and complete your casual yet classy look.
5. Is it OK to wear jeans with blazers?
It is not only ok but great to wear jeans with blazers. If you are skeptical about what to wear on a dinner date then this look will come as a life saver for you. 
It gives you a aesthetic appearance. Pair this with a light weight cotton cool coloured shirt and as you walk out you are sure to make some heads turn.
6. What shoes to wear with blazer?
Depending on what look you want to have you can wear a wide variety of footwear with blazers. If you are going for a casual day out with your acquaintances then you can wear a pair of sneakers or sandals. 
If you are going out for a formal business meeting then you can pair up your blazers with the set of formal shoes.

By reading this article you must have understood that a collection of blazers are a must in every man's wardrobe. Be it a formal gathering or casual party, you can always have your favourite blazer by your side to save you from last minute wardrobe tensions. You can pair it with any of your chinos, shorts, jeans and get the intended look.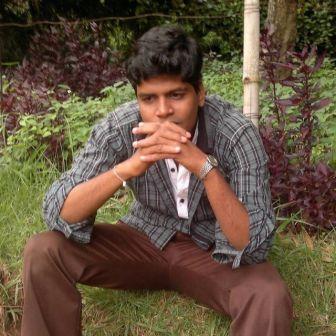 Crazy gadgets lover, Fashion Freak, Blogger, Biker, & Die Hard Gamer. Don't look somewhere else, you won't find anything better than my list.
Why you should trust me?
Am not affiliated with any particular brands, I don't promote any sponsored products, I don't write any paid reviews.
How do I choose my Products?
I have done my own research on Amazon and collect the list of top-selling products. Finally, I sort out the collected products into a few lists based on quality, brand, price & user reviews.
I spend all my days researching products, reading reviews from various sources, and bring them to you. Am doing this only to increase your trust on me and my website(InChennaiS).
Happy Shopping……