Thanks for visiting my blog "best underwear brands in india". I have spent days in research and writing this awesome post for you. 
If you plan to shop any products, then kindly buy through my link. I may receive a small commission from the purchase you made, Am sure it will not cost you a extra penny. 
This commission will help and encourage me to write more useful articles in the future.
Hey dudes, are you looking for some of the reliable brands of underwear? Yes, I do understand how important it is for underwear to be comfortable and perfectly fitting. Keeping all these quality aspects in mind, I have listed out the top 10 Best underwear Brands in India for men.
Take a quick look!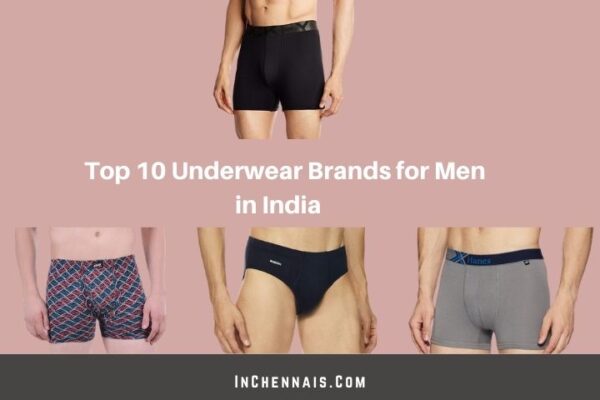 If you are thinking of having super stylish innerwear that comes with extra comfort and quality, then there's always a go-to brand- Jockey!
Jockey is one of the most recommended premium innerwear brands in India. It offers you three major designs of underwear- boxers, briefs, and trunk.

The brand also has numerous styles, patterns, and color options for you. It is known for its high-quality and durable fabrics that guarantee great comfort and protection of your vital parts.

Some of their underwear's are made with anti-microbial fabric for your added safety from infections caused due to excessive sweating or heating.

Each product price ranges between 200-800 INR, which is a very pocket-friendly deal. It is one of the considerable innerwear brands for ladies as well.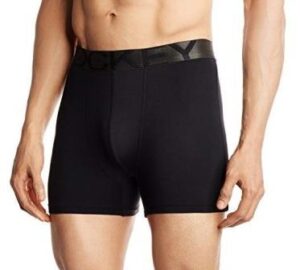 Another top innerwear brand for men is Hanes. Hanes provides their customers with some very comfy underwear tailored with fine quality fabrics.

Whether you opt to wear boxers, briefs, or boxer briefs, Hanes has got all of it. There are numerous styles, patterns, prints, and colors available with them.

Hanes is mostly renowned for its 100% cotton jersey fabric underwear in India. The product can cost somewhere from 120-1500 INR.
There is no doubt that if you want extra comfort and durability underwear, you will have to pay some extra bucks too.

The fabric used here has got an antimicrobial finish that helps in controlling bad odors caused due to sweating.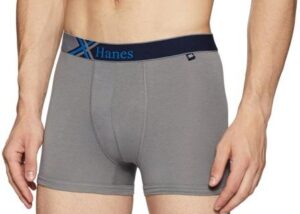 #3 - Van Heusen Underwear
Van Heusen is one of the most comfortable Indian innerwear brands owned by Aditya Birla fashion and lifestyle. The brand is well known for its durability and style.
These Underwears are made up of soft, 100% combed cotton fabric which is very breathable and skin-friendly.
The fabric is anti-bacterial as well, thus reducing foul odor and the risk of getting a skin infection. 
Also, the brand offers all-day fresh fabrics that absorb the sweat and keep your intimates dry and fresh. The price ranges between 200-750 INR.
Van Heusen has got various colors, sizes, patterns, and print options so that you can choose the best-suited ones.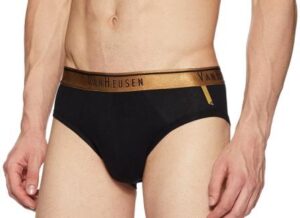 Levis is a first-class brand that manufactures men's underwear with fine quality. These underwear's give the user good comfort and perfect fitting.
They are made up of superior quality breathable fabric materials that become a very considerable option for the hot and humid climate of India. 
Also, this fabric reduces the chance of getting your underwear wet due to excess perspiration, which may cause several skin infections. This may cost you 120-500 INR which is a budget-friendly choice. 
Levis has got different styles of briefs and trunks that mainly come in solid colors. Some are available in various prints as well.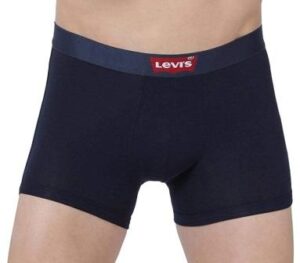 Rupa is one of the renowned brand which you can consider if you are looking for some of the best underwear brands in India.
Rupa is one of the biggest knitwear brands in our country which manufactures underwears, casual wears, sleep wears and thermal wears for peoples of any age and gender.
The undergarments are made with very good quality cotton that ensures your total comfort. This is a very durable and affordable brand that comes mainly as briefs and trunks.
The price of this innerwear ranges from 120 to 800 INR. The elastic used here is of imported quality and will ensure a perfect fitting.

GenX has got a wide range of underwear collections that are affordable as well. These underwears are made with very good quality, breathable, 100% cotton fabric material.
A single piece might cost you around 120 to 800 INR. Both briefs and trunks are available with them. 
High-quality elastic is used for the waistband that will ensure you a perfect fit. The product is available in different sizes, colors, and prints. 
GenX also has some of the most pocket-friendly men's underwear combo offers for you.
#7 - Tommy Hilfiger Underwears
Tommy Hilfiger is another stylish brand included in the list of best underwear for men. This brand offers you a wide range of trendy and fashionable underwear. 
The fabric used for its manufacture is of superior quality. Owing to the fabric quality and construction perfection, the brand is a bit on the costlier side when compared to others.

The price ranges from 250 to 1800 INR. These underwear's are highly durable and comfortable.
Tommy Hilfiger has got briefs, trunks, and boxers for you in various attractive colors, designs, and patterns.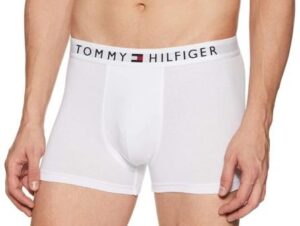 Playboy presents you with some of the cozy and fashionable underwear. The fabric material is 100% cotton for your comfort. Some of the trunks come in 95% Pima Cotton 5% Elastane for that extra stretchability.
The fabric is highly breathable that will keep your private parts dry and clean. It will also reduce foul smell arising due to excess sweating.
The underwears are available as briefs, trunks, and boxers. These are very durable innerwear and come in attractive combo offers as well.
There are many color options, sizes, and prints available for your selection. The price of the product ranges from 150-550 INR which is an absolutely affordable price range.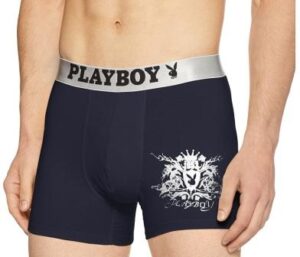 #9 - Amul Macho Underwears
Amul macho is one of the fastest-growing, very owned Indian origin underwear brands in our country. 
These underwears are made with high-quality and premium combat cotton fabrics that provide the user with good comfort and perfect fitting.
The breathable fabric used for these innerwear's are very efficient in keeping your vital parts dry and safe.
These underwears are available in different colors, patterns, and prints. The price range falls between 150-550 INR.
A variety of briefs, trunks, and boxers are available with them. All of them are easy to wash. The durability of these underwears are pretty good and they are affordable as well.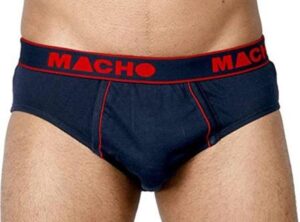 #10 - Dollar Bigboss Underwears
When speaking about the best underwear brands for men, Dollar Bigboss cannot be excluded. Dollar Bigboss brings you a wide range of affordable and comfortable innerwear's.
This brand is very durable and its price comes around 250 to 550 INR. The underwear comes with super soft and skin-friendly elastic.

The underwear's are available as trunks, boxers, and briefs. These are designed to provide you with optimum support and comfort.
The fabric is 100% cotton which helps in keeping the area dry and fresh.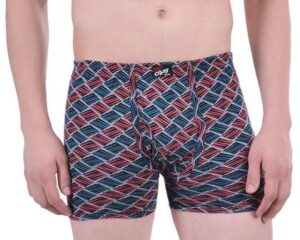 3 Most common types of Underwear for Men
There are numerous varieties and styles of underwear available in the market. The 3 most common and basic designs are discussed below. These designs are comfortable and apt for daily usage. Take a look!
1. Briefs
Briefs are the short and firm-fitting underwears for men. These do not extend downwards of your groin area but covers your pelvis area fully. The things are set free. Usually an elastic is attached to it as a waistband. These kinds of underwear are commonly used by both men and women.
They can be worn almost under every outfit. Also, this design provides good support to your vital parts. In briefs too, there are variations like high-rise, mid-rise, and low-rise briefs based on the cutting and construction of the underwear. 
2. Trunks
Trunks come with the features of both the briefs and the boxers. Trucks are considered to be one of the most comfortable varieties of underwear for men. They cover your pelvis area perfectly and extend down to the mid-way of your thighs.
Trunks can be worn at home, for moderate-level sports, and for dates as well. The square-cut design is the prime factor that makes them stylish as well as comfortable. Breathability is pretty good with trunks. 
3. Boxers
Boxers are the most breathable and comfortable design when compared to the above both. These underwears cover your pelvic area and reach down halfway of your thighs. This is specifically beneficial during winters as you get your things covered as well. 
This is a loose-fitting underwear that can be worn at home, some sports events, and casual outings. They go well with most of the outfits. Men usually prefer wearing it owing to its comfort and optimum support that it provides.
Which type of underwear is best for men?
Among all your clothes, underwear is probably the least researched one before buying, but we all know that there is nothing more irritating than uncomfortable underwear. Imagine it being too tight or too loose, don't feel so good? So be smart while choosing your underwear as they are the ones that determine your basic comfort and also how well your outfits hang on you. 
● For men with big thighs, a brief would be a good option as briefs don't cover the thighs thus you will have freedom of movement. This will also reduce friction between your thighs. 
Briefs are also the best for short men as they expose your legs fully, giving an illusion of long legs. In terms of support, briefs are the ones that provide your intimates with the maximum support. 
● Trunks are ideal for slimmer men whose thighs are medium thick. Trunks run down the midway of your thighs so if you have a slim leg it would be perfect. Also, men with larger thighs would find it a bit restricting owing to its design.
These have lower waistlines than compared to other underwear that is especially nice if you have worked out hard for that 8 packs.  
● Boxers suit men with thick as well as thin thighs. They are known for the comfort they provide. These are the most breathable underwear designs that guarantee an all-day fresh feel. 
They are less revealing as well when compared to others. You can choose to wear a boxer to almost every place. It also provides good support to your vital organs but not as much as briefs or trunks.
How to measure waist size?
For getting yourself perfectly fitting underwear, you should be well aware of which size would be perfect for you. To find this out, you need to measure your waist. Most people don't know to locate the waist exactly and measure with accuracy. So let's jump in. 
●  For locating your waist, find the area where your rib cage ends and the area where your hip bones are placed. The area between these both is the waist. This area is more fleshy and less bony. 
●  Now that you have located your waist, let's measure it! You will be needing a measuring tape for it. 
●  Wrap it around your waist and find the number. That's your perfect size. 
We also have a pro tip for you. The circumference of your neck is half that of your waist almost every time. So you can just take an underwear and wrap it around your neck; if both ends just meet perfectly, that might be your ideal one. 
Before washing your underwear always check the label on it or its cover. Some underwear can be machine washed but some have to be hand washed exclusively.
Most of the cotton underwear can be machine washed but the ones made from silk, rayon, wool, etc.. cannot go into your washing machine. Also, separate the whites and delicates.
●  Turn your undies inside out before washing for better cleaning. If they have any stain, pre-treat them with any hand soap by just rubbing a little hand soap on the stains.
●  Adding a bit of white vinegar to the water helps to remove odors. Also, do not use chemical detergents or bleaches on it.
●  After washing, you can either machine dry it at the lowest speed or preferably air dry it and use them again.

Choose the Best Underwear
I hope now you have some ideas about Top 10 Best Underwear Brands in India, Choose the best underwear for you. I have also written an article about 10 best vest brands for men in India. It's worth checking.
That's pretty much it. Hope you have got your best pick, which brand did you find the better? Comment below!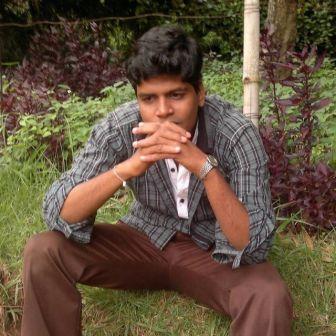 Crazy gadgets lover, Fashion Freak, Blogger, Biker, & Die Hard Gamer. Don't look somewhere else, you won't find anything better than my list.
Why you should trust me?
Am not affiliated with any particular brands, I don't promote any sponsored products, I don't write any paid reviews.
How do I choose my Products?
I have done my own research on Amazon and collect the list of top-selling products. Finally, I sort out the collected products into a few lists based on quality, brand, price & user reviews.
I spend all my days researching products, reading reviews from various sources, and bring them to you. Am doing this only to increase your trust on me and my website(InChennaiS).
Happy Shopping……