Happy New Year

Thanks for visiting my blog. I have spent days in research and writing this awesome post for you. 

If you plan to shop any products from AMAZON, then kindly buy through my link. I may receive a small commission from the purchase you made, Am sure it will not cost you a single penny. 

This commission will help and encourage me to write more useful articles in the future.

Amazon Deal of The Day- http://inchennais.com/deal-of-the-day
---
Best 3D Theatres in Chennai
It is always a fantastic time. 'First-day first show' is our motive in 3D Theatres in Chennai Areas. You and I stand as a die-heart fan of something. It can an object, movie, hero, heroine, etc. A friend's phone call with a message as "Machi… Tickets booked for Thala movie" is a dhamaka.
Usually, Friday's tickets are not available as the consecutive two days falls under weekends. This shows all red marks all over the reservation. Patrons support and controlling is the proprietor's dream. Once he sees the houseful board for more than two shows his happiness noted will be thrice than normal. Such reviews will motivate others to watch movies in theatres.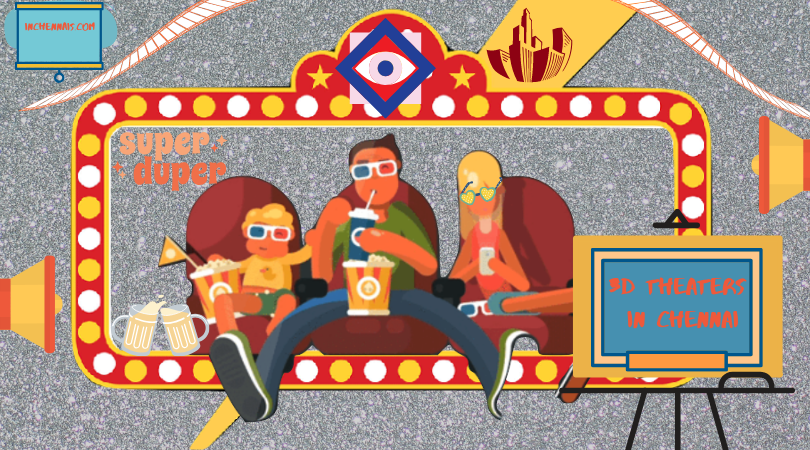 ---
---
---
A quick brush-up on the 3D movie:
It is a 3-dimensional stereoscopic film with motion enhanced with the illusion deep perception, derived out of stereo typic photography. This type of movie is made of few films combine and capture using two lenses positioned at sides besides each other. Most commonly attracted by kids and teens.
This 3-D movie needs to be seen with the glasses that show all the 3-dimensional view but, if you are a regular power glass wearer, it's not a problem at all. You can wear the special glass over the regular glass. If you use contact lens too you can wear over it. It will not look good without the glasses.
The difference between a 3D movie and a Normal movie is where each movie is seen in-depth, in 3D movies, two different films are pictured and united into one to our vision. The 3D movies are rich with depth and volume. This combination in TOTO gives us an illusion effect.
The amusement acquired from this type of 3D motioned pictures is incomparable at any age. Most commonly, the basic idea behind this three-dimensional picture is to experience the characters as if it is lively or a real-life friend's story happening around us. The sound effects will most commonly high for kids movies.
This 3D movie is the big selling point now that bestows a treat to our eyes and mind with a more immersive experience. This drags the viewer into the fictional world. If we think of worth in watching a 3D movie, then it is very simple the enjoyment felt is very high with immense pleasure. In every other state or rural place watching a 3D movie has become very common with girl friends and the screen is changed by the theatres owners to amuse the people around.
---
---
---
5 Best Movie theatres to watch 3D Movies:
In olden days there was very rare picturization of 3D movies but, in present, there are at least 3 or four 3D movies released per year. In Chennai, the theatres that have the facility to show 3D movies are, 
You May Also Like: Top 10 Theaters near Chennai Meenambakkam Airport Open
Suggest your Opinion, Choose Your Favorite 3D Theatre
---
---
---
1. Luxe IMAX – Best among other 3D theatres
This is located in Velachery and to specify it is setup in Pheonix Market city. The ambiance for a family with kids is excellent. The movie viewed from any place is the same and there is no specifies spot like a sweet spot to pick in this theatre. The key aspect is spectacles. It must not have damaged. These specs are available in different sizes specifically for both kid and adults separately. The behavior of the working staffs are also moderate and nothing in specific to feel disappointed.
The movie once begin is rich with sound effects and no delay between sound and visual is evident. The comfort level is high. This 3D is invented by Chuck Hull. The screen looks luxurious with a lot of options with a multiplex setup. Always too much crowd with excellent ambiance, though the ticket is a little costlier the experience is immense. 
---
---
---
2. Jazz Cinemas – 70 mm 3D theatre
IMAX is a single curved screen with two projectors of 2K or 4K resolution. This assures the fans to enjoy the two projections at the same time. Though the resolution is affected, the eye is shown brighter and immersive 3D experience.
Though compared to Luxe, IMAX is a little less worthy in terms of the upgrading of the impressive experience as the digital experience is almost closer to the 3D screen. It is worth for regular 2D movies. But, this has given great experience with great sound effects and has given many people 100% satisfaction. Check out the List of IMAX Theatres in Chennai and why they are worth to watch 3D Movies.
---
---
---
3. Vettri Theater Chrompet
The location of the Vettri theatre is in Chrompet which is 6 km from the Chennai Airport on GST Road, Menampakkam. Vettri theater has the second screen the screen resolution in both theatres are 1.3K high-resolution ray- QUBE digital projectors with complete QSC amplifiers & JBL speakers DTS surround system.The renovation is upgraded to 4K. 
They have 930 seats. The interiors are excellent giving the viewers an excellent enjoyment time. Also, the food items available are clean and maintenance is good. Air Conditioned Hall with a big hall. 
---
---
---
4.  Sathyam Cinema
One of the oldest and most popular big screen theatre across the mob in Chennai. Almost all seats are full always. Ambiance is excellent with food ordering and booking through online. This will ensure 100% satisfaction at the end of the movie. Also, the seating arrangement is enough spacious for people to move up and down.
The seats are movable with good ambiance. They facilitate their viewers with 4K digital projectors with 3D technology, 2.4 gain Silver Screens, and digital audio. They facilitate their audience with WiFi, games, kids area, food court, food ordering facility. Enjoy the luxurious space for your favorite movie. Recreate with an Italian grandeur.
The fine state of style, innovation, passion. Your movie at your favorite destination. Let the dream and enjoyment be noted. All at an affordable cost. The dream is in your hands. 
---
---
---
5. Palazzo Cinema
This is located in Vadapalani with incomparable facilities. This is most enjoyed for its set-up in an antique rich fashion. There are more than 4 screens and their screens are apt to watch 3D movie and feel the essence of the film with impeccable sound effect. To watch a 3D movie in the theatre, the above are the best 3D theatre in the local region (Chennai). Try with all these high-resolution screens.
---
---
---
Ironman's Dolittle in 3D:
If your kids are Ironman fan?  Robert brownie Jr (Aka) Ironman's Dolittle, the 3D movie of the year 2020, Watch your kids favourite star in 3D Glass! prefer any one of these above 3D theaters to watch Dolittle.

General FAQ:
What is digital 3D movie?
3D movie is made of few films combine and capture using two lenses positioned at sides besides each other.Simply, two different films are pictured and united into one to our vision.
What was the First 3D Movie?
Power of Love Film Producer, Harry K. Fairall, and cinematographer Robert F. Elder.
Do we need to Bring 3D glasses for 3D Movies?
No, All 3D Theatres will Provide 3D Glasses with free of cost.
Can we Take the 3D Glasses to home?
No, you have to return the 3D Glasses when you leave.
What are the best movies to watch in 3D?
My dear Kuttichathan, Stuart Little 2, Sivaji 3D, Enthiran 2.0, Baguballi Conclusion,Avenger End Game, Avatar.
What 3D Movies are in Chennai theatres now?
Dolittle, Frozen 2, Jumanji Next Level, and Upcoming Star Wars series
How Much 3D movies Ticket Cost?
Ticket Price vary based on Theatres, Cost are same as normal movies.
What are Imax 3D theatres in Chennai?
LUXE IMAX and Palazzo IMAX.

How Many 3D theatres in Chennai?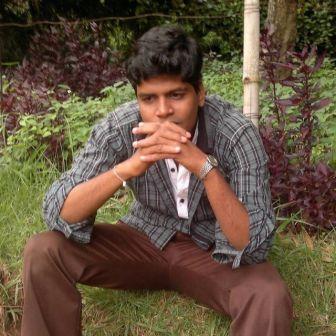 Crazy gadgets lover, Fashion Freak, Blogger, Biker, & Die Hard Gamer. Don't look somewhere else, you won't find anything better than my list.
Why you should trust me?
Am not affiliated with any particular brands, I don't promote any sponsored products, I don't write any paid reviews.
How do I choose my Products?
I have done my own research on Amazon and collect the list of top-selling products. Finally, I sort out the collected products into a few lists based on quality, brand, price & user reviews.
I spend all my days researching products, reading reviews from various sources, and bring them to you. Am doing this only to increase your trust on me and my website(InChennaiS).
Happy Shopping……