Welcome to InChennaiS

Thanks for visiting my blog. I have spent days in research and writing this awesome post for you. 

If you plan to book tickets from Bookmyshow then kindly book through my link. I may receive a small commission from the booking you made, Am sure it will not cost you a single penny. 

This commission will help and encourage me to write more useful articles in the future.
---
Couple Seat Theaters in Chennai
When we say movies we need to remember a couple seat theaters are always in high demand. As it is specially designed for the convenience of a couple, in recent days there are many couple seat theatres in Chennai.
Like our film, hero and heroine request all their fans to watch movies on a big screen theaters rather than on television through pirated discs.
When we watch in theaters the view of the many movies have changed that while it is watched on television. Now the couple, mainly IT company employees will always choose movies to spend time.
It is simply said as 'Enjoy with your pal; Forget the world'
Generally, couple seats are available in the following theatres.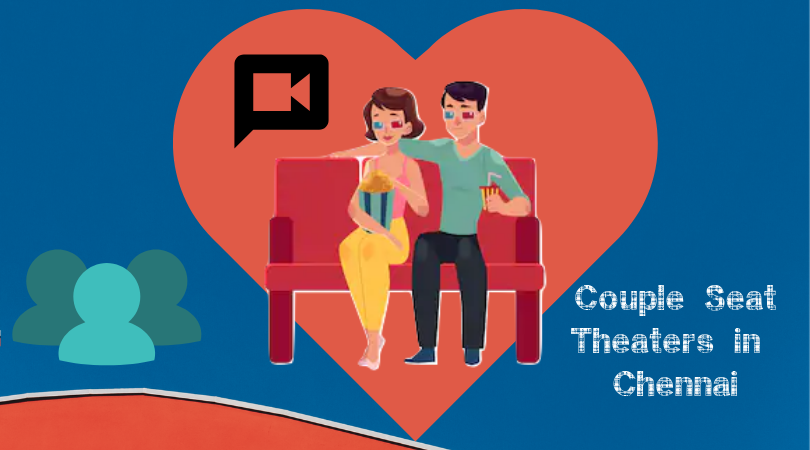 ---
---
---
6 couple seat theatres in Chennai to watch Love Movies:
Here are a few suggestions for couples to enjoy the new releases peacefully leaving all other thoughts outside the big screen. 
1. Escape Cinemas – Royapettah
2. Sangam Cinemas – Kilpauk
3. Murugan Cinemas(Sakthi Murugan Screen) – Ambattur
4. MM Theater – Tondiarpet
5. Ganapathi Ram Theater – Adyar
6. Anna theatre – Mount Road
---
---
1. Escape Cinemas  – Top theatre with couple seats
In all the screens there is a couple of seat availability. Basically, two seats clubbed together without a partition is said as couple seat. Its a perfect setup for newly married, lovers, etc.
This is also comfortable for people who are afraid to watch a horror movie alone. It is very convenient to share love among the couple when they watch a romantic movie.
Click Here to Book Your Tickets
---
---
---
2. Sangam Cinemas — Kilpauk
Here the maintenance is excellent for the money spent on Love today movie. The ambiance over here is very nice and clean. Privacy is perfectly maintained.
The other facilities such as washrooms and carpets all around the theatre are perfectly maintained and no disappointment is shown in the reviews till now.
This is one of the best theatres for couples in Chennai. Not all the screens are a couple seated but a few are.
Click Here to Book Your Tickets
---
---
3. Murugan Cinemas
This is located in Ambattur, wherein the couple seat is available in Sakthi Murugan Screen which is well-maintained. They ensure that the seats are cleaned at the end of every day.
If the couple crosses their limit they will be chucked out as there are norms and policies that need to be followed. Only after acceptance declared the seats are allocated.
The basic moral behind it is to have fun within limits and enjoy the movie as if you are watching from your own home.
Click Here to Book Your Tickets
---
---
---
4. MM Theater
This is spacious and located in Tondiarpet. There are a couple of seats available. The tidiness and rules following are strictly followed to avoid any unlikely happenings.
This is a very comfy seat for a couple with a kid. There is no disturbance created for the surrounding people nor others can create chaos for this family.
As the seats are without partition it gives a 'feel at home'. Food availability is also good and is economical.
Click Here to Book Your Tickets
---
---
---
5. Ganapathi Ram Theatre – Best Among all these couple seat theaters
This is located in Adyar. The facilities available for Couple Seat choosers are immense and are available at an affordable cost. At times there are birthday celebrations which include cake cutting.
This is accepted with prior permission from the management team. These situations none others are disturbed. This will make your birthday celebration a unique and memorable one.
---
---
---
6. Anna theatre
Anna theatre is located on Mount Road. The impeccable seat arrangement is loved by many clients. Almost we get a homely feel since our better half is next to us and is sitting and watching your favorite Love movie holding each other's hands to share their feelings and thoughts.
Click Here to Book Your Tickets
---
---
---
Best theatres in Chennai for couple 
Though a few best standard theatres that might not have the facility of couple seat in a separate zone, they are loved by the visitors. Such theatres are as follows
1. Palazzo
2. PVR Ampa Skywalk
3. PVR Grand Gallada
4. Inox Citi Center
5. Mayajal
6. Luxe
---
---
---
1. Palazzo
This is constructed in a new way where many architectural and cultural portrait of theatre in Vadapalani. The chairs and the entrance are constructed in a new manner.
This is a smaller theaters but the cleanliness is excellent all around the places. The mall has a highlight where the stairs go into the theater's area to facilitate the viewers to reach the screen on time. The eatables available are also enormous in numbers and are affordable by all.
Click Here to Book Your Tickets
---
---
---
2. PVR Ampa Sky walk
This is located in Aminjikerai. The ambiance and seating's are available for online bookings. Everything including the snacks can be booked online so that clients need not move out of their place until the movie completes.
As the name says these theatres are very much liked by many youngsters and newlyweds. Here the corner seats and last few rows are always liked by such romantic couplets. Space is sufficient for all.
Click Here to Book Your Tickets
---
---
3. PVR Grand Gallada
All shows are available and all the new movies are released here. The sound and visual effects are excellent with no disturbances.
This is located in Pallavaram. Both train and bus facilities are excellent to reach this theatre. Almost all-region and national language movies are shown here.
This is one of the best theatres for couples in Chennai. The couple theatre is most liked for its ambiance.
Click Here to Book Your Tickets
---
---
---
4. INOX Citi Center
This is located in Mylapore. Though this is placed near marina beach much love watching movies here after a clean enjoyment in the movies. More enjoyment in short time.
These theatres are more commonly liked by couples the seating's in the corners are more favorable for a couple to enjoy. Initial stages the place is very famous for movie shoot as the exterior and interiors are newly designed.
The location is easily reachable and convenient for all age groups to reach easily.
Click Here to Book Your Tickets
---
---
---
5. Mayajal
This is 350 km far away from the city. But there is a lot to see in this place. Thus, it is most likely loved by couples as the facilities are the same from day one.
These are very commonly visited by many of the lovers to exchange their love in all means. The entire mall is filled with alluring fun.
Similarly, the theatre is maintained neat and clean. At the same, the food can be ordered online and customized. The seats are larger and the cushioning effect is excellent.
Click Here to Book Your Tickets
---
---
---
6. Luxe
This is located in the world's top and biggest mall that is named with a bird's name 'Pheonix'. The Luxe is very much neat and luxurious setup.
The theatre is most effective for couples. These are very well built with an excellent setting that resembles the well-built structure and appearance.
Click Here to Book Your Tickets
---
---
---
Couple seat theaters
Thus, it is not the seating that is important but the hospitality and food facility that is included. All the locations are easily reachable and it is sound effects are excellent.
Certain movies are worth to watch in theatre than in television of any size. In specific Love movies are to be watched at least in one among the best Private seat theatre in Chennai.
Also, the movies, when watched by a couple sitting together enjoying their movies side to side holding hands or leaning on each other's shoulders, will always be most welcome by youngsters.
These theatres show timing is very convenient for even the college valentines to celebrate their happiness together. Most of the time the problems may arise in the food or seat availability.
Once booked it is all on the basis of first come first serve…… no partiality or soft corners.
True you may have a doubt of watching the same movie at home but the thrill or the interest will not be to this extent or it may not be appreciated too if not watched in the theaters.
It is the wiser way to respect the entire movie production and action team. Watch all your favorite movies in favorite theatre with your girlfriend.
---
---
---
Frequently Asked Questions:
Two seat clubbed together without a partition into one huge seat is said as couple seat.
Couple seat in cinema is specially designed for convenience of a couple.
It is very convenient to share their love when they watch a romantic movies.
Absolutely safe, Its depend on the place you choose.
Corner seat is best place to kiss your girlfriend in theatre. In Weekdays, almost all theatres are empty in Chennai. so, kissing in the theatre is not a big deal. But before ask your Girl friend.
Couple seat theaters are best to kiss your lover, they are more spacious and have no partition between seats. There are around 6 theaters in Chennai with couple seat. Choose wise on your own!
Booking couple seats in theatres is same as like other tickets, but has huge demands.
Just visit your favorite online portal and select Executive seats and finish your payment.
As i Mentioned above, these are the best theatres for couples.
Escape Cinemas

Sangam Cinemas

Murugan Cinemas

MM Theater

Ganapathi Ram Theater

Anna theatre

Palazzo

PVR Ampa

Skywalk

PVR Grand Gallada

Inox Citi Center

Mayajal

Luxe IMAX
Recliner seats otherwise named as sofa seats. In Chennai, bellow theatres have recliner seats.
Abirami Cinemas

Escape Cinemas

Palazzo

Inox

Luxe

Sathyam Cinemas

Sangam Cinemas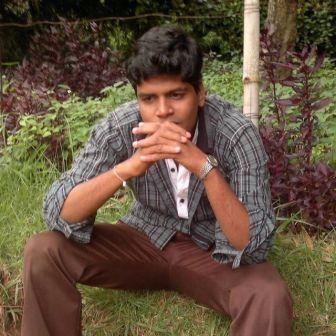 Crazy gadgets lover, Fashion Freak, Blogger, Biker, & Die Hard Gamer. Don't look somewhere else, you won't find anything better than my list.
Why you should trust me?
Am not affiliated with any particular brands, I don't promote any sponsored products, I don't write any paid reviews.
How do I choose my Products?
I have done my own research on Amazon and collect the list of top-selling products. Finally, I sort out the collected products into a few lists based on quality, brand, price & user reviews.
I spend all my days researching products, reading reviews from various sources, and bring them to you. Am doing this only to increase your trust on me and my website(InChennaiS).
Happy Shopping……